Patriarch Bartholomew had a personal meeting with believers aspiring for the One Local Church
4 June 2018, 13:42
|
International relations
|
2
|
|
Code for Blog
|
|
On May 26 to 30, 2018, the initiative group of Ukrainian believers made a visit to Istanbul and submitted to the Ecumenical Patriarch Bartholomew an appeal to support the Tomos of autocephaly of the UOC.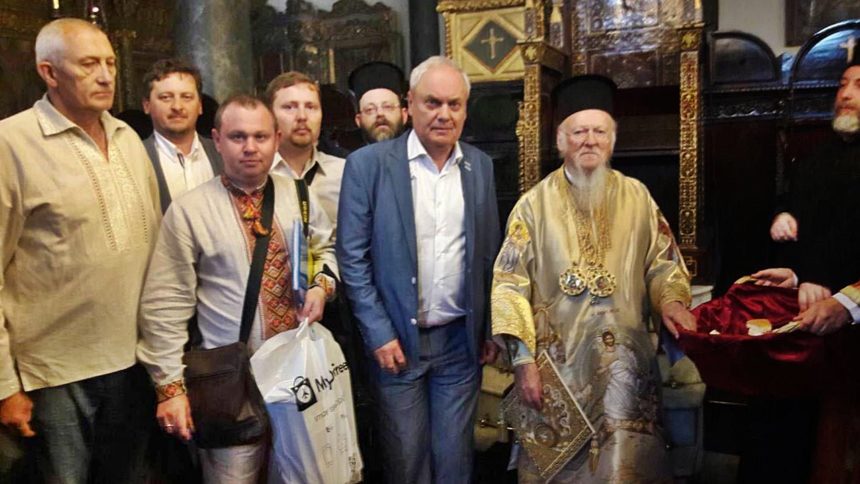 This is reported by Religiyna Pravda with reference to theweb site of the Kyiv Orthodox Theological Academy of the UOC-KP.
The delegation was led by Svyatoslav Chokalyuk, Ph.D. in theology, associate professor, head of the department of church-historical and practical disciplines of the Kyiv Orthodox Theological Academy.
On the day of the Holy Trinity, Ukrainians took part in the worship at St. John's Church on Phanar, led by Ecumenical Patriarch Bartholomew.
Upon completion of the Divine service, members of the delegation had talks with the Ecumenical Patriarchate and handed over the petitions of Ukrainian believers. During the conversation, Patriarch Bartholomew expressed his support to the Ukrainian people and conveyed his blessing.
Subsequently, the conversation continued in the patriarchal residence with Archimandrite Joachim (Billis), the chief secretary of the Holy Synod of the Ecumenical Patriarchate.
Fr Joachim has noted that this visit is of high importance for the future of the Church, and especially for Ukraine. He also has noted there is a very fruitful cooperation and interaction on the Ukrainian issue between the Patriarchate and the diplomatic corps of Ukraine in the Turkish Republic, where interpersonal communication plays a crucial role.
Last comments
23 March 2019, 22:44

|
23 March 2019, 13:22

Верх лицемерия! Сидеть и глумиться в президиуме "собора" древней Софии, давить даже на самого Денисенко, чтобы состряпать какую-то никем не признанную псевдоцерковь "пцу",

|
22 March 2019, 12:39

Браво, шановний КИЄВЛЯНИНЕ!!! Та ВАШУ, воістинно, мудру думку мали б, найперше, озвучити Глави та Ієрархи УГКЦ і УПЦ... Дуже шкода що вони до цього ще не додумалися. А чому? Може ще не доросли,

|
21 March 2019, 23:39

Дозволю собі висловити тут таку думку. Панові Святославу, та всім хто підтримує висловлену у цьому інтерв'ю позицію варто пам'ятати і усвідомлювати, що сьогодні немає перешкод для греко-католикам

|
Most Popular Articles month