Metropolitan Epifaniy: Filaret to punish himself if he holds Local Council
15 June 2019, 06:47
|
Orthodox Church of Ukraine
|
2
|
|
Code for Blog
|
|
Metropolitan Epifaniy of Kyiv and All Ukraine believes that if Patriarch Enmeritus Filaret holds the so-called Council of the Kyiv Patriarchate, he will punish himself, which will result in his isolation from the Orthodox Church of Ukraine. He said it on the Radio NV, according to Ukrinform.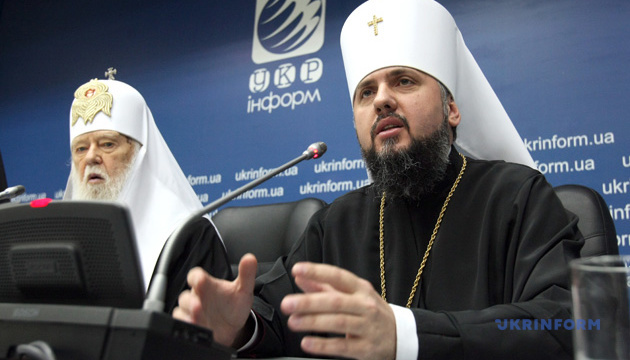 "In general, talking about the convocation of the Local Council of the Kyiv Patriarchate is inappropriate because the Kyiv Patriarchate was dissolved on December 15. And now the Patriarch Emeritus, as one of the hierarchs of the Orthodox Church of Ukraine, has no right to convene Local Councils ... I would not like to mention certain punishments, as I said that the only possible punishment now is the one he can choose himself – being separated, going back to the isolation from the Church that was granted the Tomos, from the Church which, gradually, receives recognition from other Orthodox Churches," said Metropolitan Epifaniy.
He believes that in the case the Council is held, it will involve separation from the one Local Orthodox Church of Ukraine by "a small part of the hierarchs, clergy and laity."
"It is inappropriate to say that this is a restoration of the Kyiv Patriarchate, since the Kyiv Patriarchate as a religious association itself has been dissolved, and now we can only talk about the creation of a new entity with the old name ... What will happen, if it happens, is certain hierarchs, who join this process, will incur a punishment on themselves separating themselves from the single body of the already recognized autocephalous local Orthodox Church and will go into a split," added the Metropolitan.
According to Epifaniy, the decision on the punishment can be approved only by the Council of Bishops or the Local Council because the OCU is managed collegially.
"I would not want to envisage certain punishments for those who can split from our church," said the Primate of the OCU.
Most Popular Articles month
22 January 2020, 10:50 | UGCC | 24 January 2020, 10:46

Chief rabbi of Ukraine asks Yad Vashem to recognize Andrey Sheptytsky as Righteous Among the Nations

13 January 2020, 11:14 | Religion and policy | 17 January 2020, 18:36

Metropolitan Agafangel of UOC-MP "endures a night of persecution" by Ukrainian adepts of Devil

20 January 2020, 11:26 | National religious question | 21 January 2020, 11:55

21 January 2020, 10:28 | UOC KP | 21 January 2020, 19:51

23 January 2020, 15:47 | International relations | 24 January 2020, 17:40

Volodymyr Zelenskyy visited the Wailing Wall and joined the prayer for peace in Ukraine