UGCC celebrates 50th anniversary of the consecration of St Sophia in Rome
2 September 2019, 10:40
|
Religious ceremonies and pilgrimage
|
0
|
|
Code for Blog
|
|
The clergy and pilgrims of UGCC from all over the world celebrated the 50th anniversary of the consecration of St Sophia in Rome.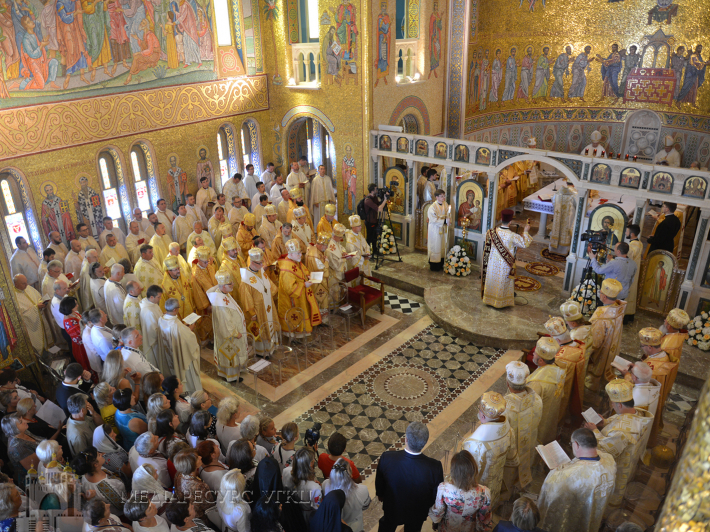 The main event of the celebrations is the Episcopal Divine Liturgy. On September 1, it was led by Patriarch Svyatoslav in concelebration with the bishops of the Synod of the UGCC.
Praying at the worship service were the pilgrims, clergy and monastics, among guests was cardinal Leonardo Sandri, prefect of the Congregation for the Oriental Churches, and Cardinal Emeritus Domenico Calcagno. The celebrations were also attended by the fifth President of Ukraine Petro Poroshenko with his wife Marina and the Ambassador of Ukraine to the Vatican, Tetiana Izhevska.
In his sermon, Patriarch Svyatoslav recalled the figure of Patriarch Iosyp Slipyy, who made a great contribution to the development of the Church and the Ukrainian people. In particular, it is thanks to him that the UGCC is now a global unified Church.
"By building this Cathedral," he said, "in his wisdom, as a reflection of the Wisdom of God, Patriarch Iosyp left the manifesto of identity of a Ukrainian, a Ukrainian Christian, a faithful son and daughter of the UGCC. At the time, he said that this Cathedral is a mirror of St. Sophia of Kyiv. IosypSlipyy strived to show God's Wisdom and to glorify it in this Cathedral. This Kyivan Christianity, our national being, is a mirror of the Divine Wisdom."
According to Channel 5, after the Liturgy, the blessing of the jubilee cross took place. On the occasion of the anniversary it will be installed next to the temple.
Previously, the pilgrims had the opportunity to visit the Museum-apartment of Patriarch Iosy Slipyy, read a book and watch a film featuring his biography.
It was Iosyp Sliyy who initiated and launched the construction of St Sophia in the second half of the twentieth century.
On the occasion of the anniversary, Patriarch Svyatoslav recorded a video message in which he urged Ukrainians and the Ukrainian Diaspora to take part in the celebration of the golden jubilee of the temple, which, according to him, became the heart of the Ukrainian world and the evangelist of freedom.
Most Popular Articles month
1 May 2020, 10:05 | UOC (MP) | 2 May 2020, 13:10

Survey launched among Bukovyna believers on readiness to rally against the Lavra seizure from UOC-MP

12 May 2020, 12:12 | AUCCRO, inter-confessional councils | 13 May 2020, 19:26

AUCCRO suggests the government ease quarantine restrictions for religious organizations

12 May 2020, 10:23 | Orthodox Church of Ukraine | 13 May 2020, 10:44

Hellenic Republic Council of State rejects the demand of pro-Moscow organizations to cancel the recognition of the Autocephalous Church of Ukraine by Greek Church

23 May 2020, 09:35 | Church-state relations | 23 May 2020, 15:23

Zelensky responded to the petition for withdrawing Kyiv-Pecherck Lavra from UOC-MP

23 May 2020, 23:18 | Islam | 24 May 2020, 08:32