Pope entrusted me to testify you are holding a special place in his heart, Cardinal Leonardo Sandri toUkrainian Greek Catholics
12 July 2017, 11:15
|
Religious ceremonies and pilgrimage
|
1
|
|
Code for Blog
|
|
Before my departure, Pope Francis personally instructed me to testify to you his affinity, his embrace, his prayers together with the blessing.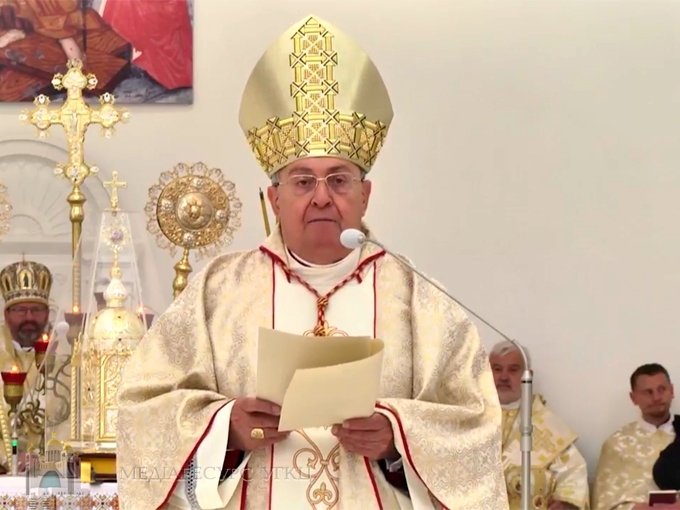 Cardinal Leonardo Sandri, Prefect of the Congregation for the Oriental Churches, told this in a sermon during the Divine Liturgy on July 12 at the feast of the Supreme Apostles Peter and Paul in the Patriarchal Cathedral of the Resurrection of Christ in Kyiv.
According to the Department of Information of the UGCC, the Ambassador of Pope Francis thanked the Lord for the gift of today's Liturgy and conveyed the words of the pontiff that Ukrainians occupy a special place in his life.
"Pope Francis assures you," added the preacher, "that you are not alone, that you have a special place in his heart, and he sincerely thanks you for all the prayers that you have raised to God in his intentions in the time of the recent great pilgrimage to the Basilica St. Peter to celebrate the 150th anniversary of the canonization of St. Josaphat: a martyr for the sake of love for God, a martyr for the sake of the unity of the Church, which we want to follow without giving up any difficulties or human power that wants to take our hope in an honest and just life, in cooperation and conversion of all, the hope of homeland, honored in its entirety and reconciliation between its various components and souls in the middle of oneself."
Cardinal Leonardo Sandri also reminded that he was not visiting Ukraine for the first time. This is his third visit to our country. In 2001, the Cardinal arrived in Ukraine, accompanied by St. John Paul II and this journey made an unforgettable impression on him.
"I still remember his words when he remembered the tradition according to which the apostle Andrew, visiting places where the city later grew up, blessed them, saying: "The glory of God is rising on these hills!" professing that the Dnieper would become the new Jordan through the baptism of Prince Volodymyr, and Kyiv – the new Jerusalem as the mother of Slavonic Christianity in East Europe. These words of the Holy Pontiff lead us with a heart and mind to Pope Francis who, before my departure, personally instructed me to assure you of his affinity, his embrace, his prayers together with the blessing, which on his behalf I will bestow upon you at the end of this Liturgy," said the Prefect of the Congregation of the Eastern Churches.
Most Popular Articles month
17 September 2019, 09:57 | Interchurch relations | 17 September 2019, 23:15

Patriarch Sviatoslav of UGCC meets with Ecumenical Patriarch Bartholomew in Rome

25 September 2019, 14:56 | Orthodox world | 28 September 2019, 15:45

Odious Metropolitan of UOC-MP threatens with "Pan-Orthodox Apocalypse" if UOC obtains recognition of local churches

10 October 2019, 14:46 | Orthodox world | 11 October 2019, 17:03

Scary books about Tomos distributed by OCU-MP in Athens, where the Council on Recognition of the OCU convened

18 September 2019, 10:20 | Orthodox Church of Ukraine | 20 September 2019, 16:38

7 October 2019, 10:57 | Sacral art | 8 October 2019, 15:00

Most of the sacred shrines of Prince-governed Rus-Ukraine were exported to Russia - scientists