"No to Russian world!": in Dnipro, activists picket a film festival supported by UOC-MP
31 January 2020, 10:34
|
Protests and conflicts
|
0
|
|
Code for Blog
|
|
In the evening of January 30 in Dnipro, activists picketed the international film festival "Cinema Assembly on the Dnieper", which is held with the support of the UOC-MP. Several dozen people gathered beside the building of the House of Unions, where the festival was opening, with posters "No to the Russian world!", "Freedom to prisoners of the Kremlin".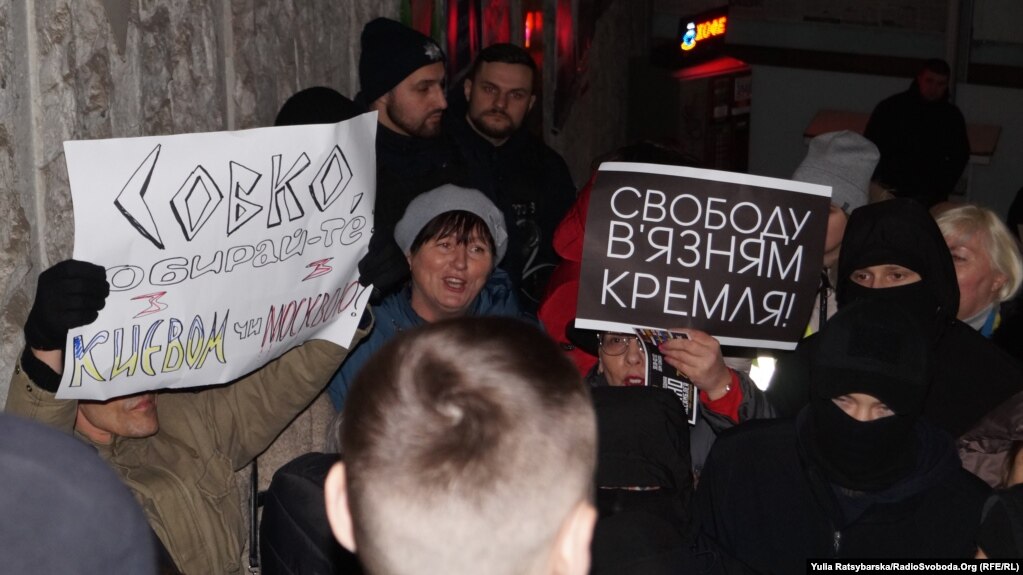 Among them were representatives of public organizations, veterans of military operations in the Donbas, parents of dead soldiers, and volunteers, Radio Liberty reports.
According to the participant of the event Lyudmyla Kostryukova, the picketers were outraged by the fact that among the films participating in the festival 10 films produced in Russia and only one of them Ukrainian.
"There are good Ukrainian films, for example, the "myth" about the ATO veteran who is a famous opera singer. But they are not offered for viewing. Before the start, there was a provocation: we were not allowed to enter the building by some "titushkas". Just because we speak the Ukrainian language. Language as an identifier," she said in a comment on Radio Liberty.
Participants of the action also resented the name of one of the films offered for viewing – "Hero of the Empire". One of the activists demanded from the organizers to show the licence of the distribution of films in Dnippro.
The organizers of the film festival said that the program's films are outside of politics. The participating films include films from Belarus, Georgia, Russia, Ukraine, Serbia, Armenia, and Azerbaijan.
"This is not what we are here for. We are now talking about movies, directors, and artists. We don't talk about war, because war is a topic that hurts everyone," said Archpriest of the UOC-MP, Igor Sobko.
Some of the picketers, leaving behind the door their slogans, were able to get into the room, in order, according to them, to ensure that the movied so not contain Russian propaganda. There they immediately after the announcement of the beginning of the festival sang the anthem of Ukraine.
At the same time, another part of the protesters blocked the entrance to the building, preventing some of the spectators from passing through.
The police said that the action was generally peaceful.
Most Popular Articles month
8 February 2020, 15:56 | Vatican | 9 February 2020, 21:03

President Volodymyr Zelenskyy invited His Holiness Pope Francis to visit the capital and the east of Ukraine

12 February 2020, 12:07 | Orthodox world | 27 February 2020, 19:04

Moscow overrates its influence on the Orthodox World, - religious expert on Amman Meeting

24 February 2020, 11:26 | Church-state relations | 25 February 2020, 13:59

OPU Deputy Trofimov interferes with Church policy for the benefit of Moscow Patriarchate, - media

21 February 2020, 12:38 | International relations | 22 February 2020, 20:56

2 February 2020, 20:38 | Orthodox Church of Ukraine | 5 February 2020, 14:06

Representatives of Universal Orthodoxy arrive to celebrate the first anniversary of the OCU Primate's enthronement