Head of the UGCC comments on the conflict concerning the Holy Annunciation Church in Kolomyia
26 October 2017, 13:33
|
Land and property problems
|
0
|
|
Code for Blog
|
|
Last week in Kolomyia, Ivano-Frankivsk Oblast, an inter-confessional conflict between the faithful of the Ukrainian Greek Catholic Church and the Ukrainian Orthodox Church concerning the Church of the Annunciation broke out with renewed passion. On Sunday, October 22, it continued. The head of the UGCC, who was on an official visit to the United Kingdom in those days, commented on this conflict.
"The news of the confrontation between Orthodox and Greek Catholics in Kolomyia was very upsetting me. I am convinced that when two church communities in this way fight for church property, all lose – in such a confrontation winners do not happen. At a time when our best sons and daughters are getting killed at the frontline, the struggle for the temples is like a mockery of their wounds and suffering," the First Hierarch said. "I got the impression that the inconsistent actions of the authorities are trying to fix some of the patriotic feelings of the residents of Kolomyia, including our priests who are very sensitive to these circumstances, because of the experience gained at the front. In my opinion, the emotions dominated the sober assessment of the situation. I believe, the forceful attempts to prevent the execution of court decisions is a mistake. In Ukraine we must assert the power of law, and not the power of force, as taught by St. Pope John Paul II. In my opinion, the one who defends his position in the way it was done in Kolomyia is at risk of defeat. The rights must be contended in court, and this must first of all be done by the city authorities."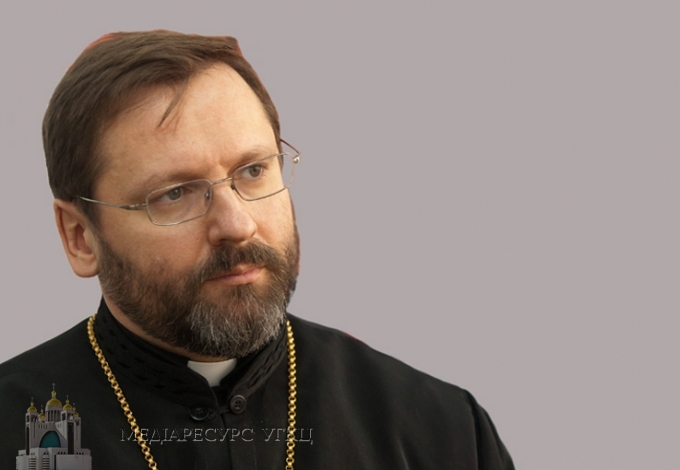 The head of the UGCC believes one of the outcomes of this conflict if the two sides should calm down and refuse any military confrontation.
"Our chaplains should stop blocking the temple and transfer the right to defend the interests of the church community to their bishop. It is he who is authorized to represent his flock with the state authorities, and to conduct a peaceful dialogue with the local bishop of the UOC. I consider it unacceptable that the public, political or military organizations interferes in this discussion," said Patriarch Sviatoslav.
Patriarch Sviatoslav has supported the position of the local bishop, expressed in the Statement on behalf of the diocese on October 21, 2017:
"I extend my special gratitude to the Bishop for the call on the faithful to respect the representatives of other Christian denominations, which we have not heard from the Orthodox side. I also fully support the call for the creation of a four-party commission of representatives of the regional and city government, as well as local dioceses of the UGCC and the UOC. The sooner this conflict returns within the legal boundaries, the sooner it will be resolved though the joint efforts. In conclusion, I want to call on the faithful of our Church and people of good will to pray for our community in Kolomyia for peace and tranquility in this glorious city, for eliminating the hatred and hostility between Christians and for the grace of the Holy Spirit for the local authorities, in order that this conflict is settled as soon as possible."
Most Popular Articles month