Head of the UGCC: Empty promises of politicians play into the hands of our enemies
Today, Ukraine is struggling for freedom, independence, genuine democracy and against all that comes from Russia. If we use infantile slogans, like we will change everything at once, and if we do this with violence, we will destroy the very idea of a democratic Ukraine. Such actions play right into the hands of our enemy, who will not have to use aggression, because we will destroy Ukraine with our own hands.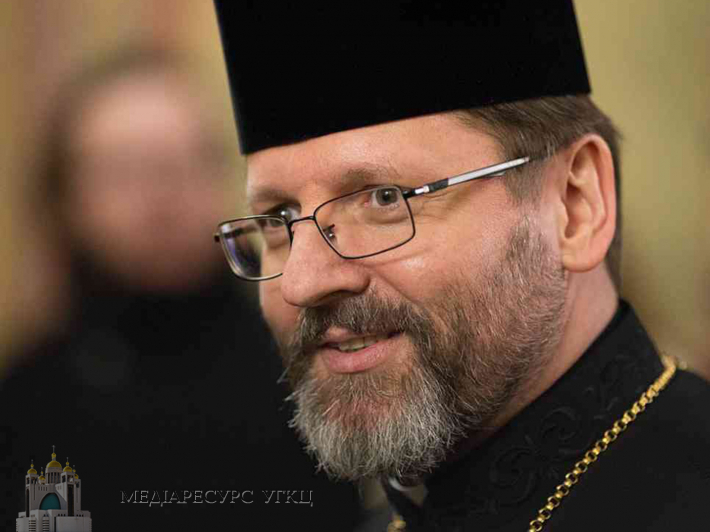 Such a position was expressed by the Father and Head of the Ukrainian Greek Catholic Church His Beatitude Sviatoslav in an interview with the Polish Catholic Information Agency, Department of Information of the UGCC informs.
The Primate reminded that in early 2019 presidential elections will take place, and in the second half - parliamentary ones. In his opinion, the political struggle is already under way. Unfortunately, we can already see the great risks that arise for the existence of the Ukrainian State.
"Voters are seen as a material for political manipulation. Social thought is being constantly manipulated by using fake news, spreading pseudo-truths, which destroys the trust in politicians and state structures. Today, the degree of confidence to the Ukrainian Parliament is 7-8 percent, and to the President is approximately the same. So the question arises, who will vote. If the Ukrainians do not take part in the elections, the power system will collapse," said the Head of the Church.
His Beatitude Sviatoslav said that the Church warns, on the one hand, that politicians keep from manipulation, and encourages people not to ignore the elections, on the other hand. "When we look, for example, at the last elections in Russia, we see that this is just a spectacle that is absolutely discrediting democracy in the eyes of the citizens," added the Аrchbishop.
The next threat, in his opinion, is the radicalization of society. "Hateful slogans are used, which is also a major threat to the democratic system. You can see that the Church is the only institution that protects democracy and patriotism, but also warns against manipulating patriotic feelings. We are trying to teach people that only a democratic system can save Ukraine," stressed the Head of the UGCC.
Last comments
23 March 2019, 13:22

|
22 March 2019, 12:39

Браво, шановний КИЄВЛЯНИНЕ!!! Та ВАШУ, воістинно, мудру думку мали б, найперше, озвучити Глави та Ієрархи УГКЦ і УПЦ... Дуже шкода що вони до цього ще не додумалися. А чому? Може ще не доросли,

|
21 March 2019, 23:39

Дозволю собі висловити тут таку думку. Панові Святославу, та всім хто підтримує висловлену у цьому інтерв'ю позицію варто пам'ятати і усвідомлювати, що сьогодні немає перешкод для греко-католикам

|
21 March 2019, 12:21

Ви знаєте, шановний Адміне, я з Вами маю тут погодитися. Тобто, більш уважно й вдумливо читаючи і осмислюючи ці його останні публікації і, зокрема, на порталі РвУ, я також дещо почав помічати й

|
Most Popular Articles month