"Persecuted" UOC Moscow Patriarchate erects news churches in Dioceses of Odesa, Ternopil, Severodonetsk
17 July 2019, 11:37
|
Temples, church property
|
0
|
|
Code for Blog
|
|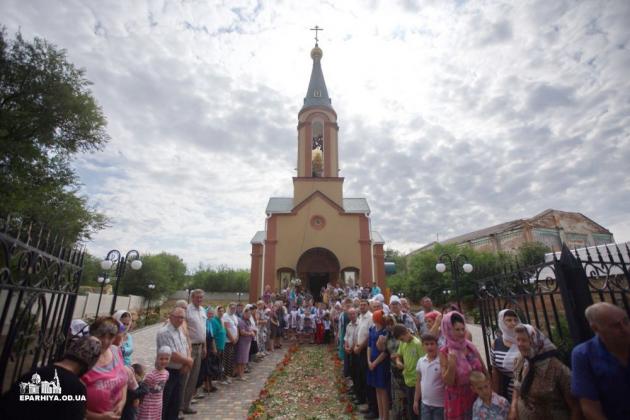 The faithful of the UOC-Moscow Patriarchate continue to build new churches. Over the past week, new churches in Odessa and Ternopil regions, as well as a chapel in the Severodonetsk Diocese were consecrated. This is reported by the Orthodox life.
The rite of the great consecration of the Church of the Holy Apostles Peter and Paul in the Velyky Kut village, Artsisk district of Odessa region, was celebrated on July 14, 2019, by the Metropolitan Ahafanhel of Odesa and Izmail.
After the consecration rite, the hierarch celebrated the first Divine Liturgy in the Church of Sts Peter and Paul.
Metropolitan Ahafanhel congratulated the residents of the village on the significant event, noting that so far in Velyky Kut there was only a room adapted for worship.
The new church for the religious community of the UOC-MP of the Righteous Ann in the Village of Kuty, Shumsky district, Ternopil region, was consecrated on July 12 by Metropolitan Serhiy of Ternopil and Kremenets.
A new church in the village of Kuty was built with the assistance of the Charity Fund Favor on a private plot of land. The construction continued from May 2018. The former church of the Moscow Patriarchate community was transferred to the Kyiv Patriarchate in 2015.
On July 12, the consecration of the Chapel of the Exaltation of the Holy and Life-giving Cross was held in the village of Bilokurakine, Luhansk region. The rite was officiated by Archbishop Nikodym of Severodonetsk and Starobilsk.
Archimandrite Irynarkh (Tymchuk), the Secretary of the Diocese, Archimandrite Volodymyr (Mohylny), the deanery of Bilokurakine district, and the clergy of Bilokurakine deanery prayed at the worship service.
Following the consecration of the chapel, Archbishop Nikodym congratulated those present on this important event and conferred a church award on church warden Hapochka.
Most Popular Articles month