Patriarch of UGCC tells a touching story of a six-year old boy who invited the Pope to Ukraine
Patriarch of the UGCC Sviatoslav Shevchuk told a moving story of a little Ukrainian and his communication with the Pope Francis on Saturday, February 17, during the live broadcast of the Open Church program on ZHyve TV. It was reported by the Department of Information of the UGCC.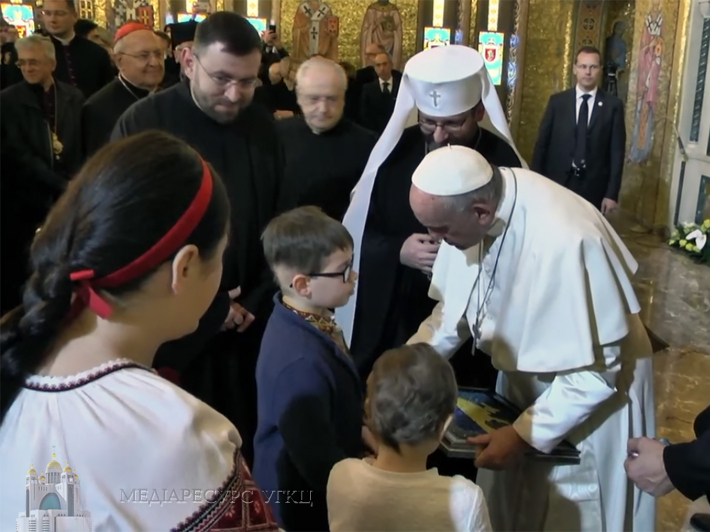 Pope Francis is known to have made a visit to the Cathedral of St. Sophia in Rome in January, where he met with the Ukrainian community of Italy. Many then wondered if the pontiff would come to Ukraine? A six-year-old Ukrainian boy, Danylko, who now lives in Rome and has made "friends" with the Holy Father, knows exactly the answer to this question.
"I will tell you the story of a little Danylko. This boy first had an audience with the Holy Father several years ago. There he was holding a child's drawing depicting the Cathedral of St. Sophia. Incidentally, there is even a picture of how Pope Francis embraces him. Then the Roman Pontiff asked what the boy was drawing. Danylko immediately replied: "This is our church in Rome. Come visit us!" And the Holy Father made it clear that he accepted this invitation. So the boy was convinced that Pope Francis came to St. Sophia's Cathedral in Rome in response to his invitation!" said the head of the UGCC, smiling.
According to him, Danylko and his mother has stayed in Italy for several years and has been struggling with severe illness. However, as we see, the boy does not lose optimism and hope.
"And, when I witnessed the meeting between Danylko and the Pope," said His Beatitude Sviatoslav, "the boy said to him the following words: I thank you for coming and having kept your word! Please, pray for Ukraine! You know how bad it is when a mom cries because her son was killed."
The Head of the UGCC further said that the Holy Father was very moved by the boy's deep words. Then Danylko responded: "I promise you that I will pray for the mothers of Ukraine!" Without thinking much, in the end the boy confidently spoke to the Head of the Catholic Church: "Come to Ukraine, okay? I invite you!"
The primate added that when the next day our priests asked Danylko about his impression of the meeting with the Roman Bishop, the boy said: "I am convinced that the Pope will come to Ukraine, because he is able to keep his promise!"
"We are looking forward to this, since the children tell us that Pope Francis will definitely come. We really want this visit to take place!" said His Beatitude Sviatoslav.
Last comments
25 March 2019, 16:27

|
24 March 2019, 12:14

Сколько тебе заплатили ФСБ за это кукареканье по всему сайту, русский петух?)) Марш на свою парашу и сиди там тихо, быдло!

|
23 March 2019, 13:22

Верх лицемерия! Сидеть и глумиться в президиуме "собора" древней Софии, давить даже на самого Денисенко, чтобы состряпать какую-то никем не признанную псевдоцерковь "пцу",

|
Most Popular Articles month