Patriarch Sviatoslav Shevchuk invited Pope Francis to Ukraine: children are expecting the visit of their Father
10 October 2017, 07:38
|
Catholic world
|
1
|
|
Code for Blog
|
|
His Beatitude Sviatoslav thanked the Pope for the support of the Ukrainian people and resumed the invitation to visit Ukraine.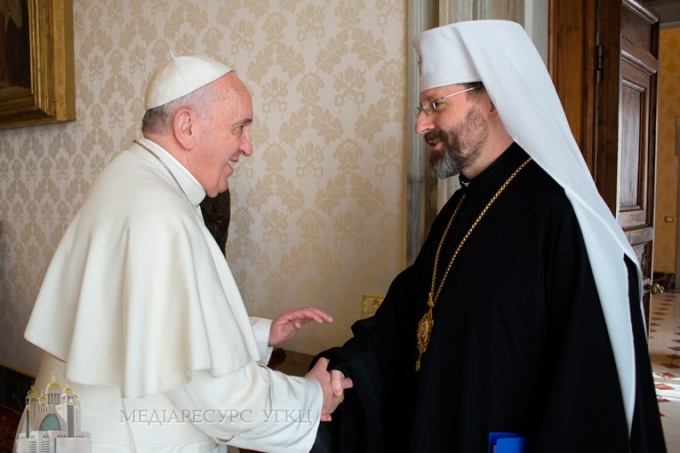 "I woul like to thank you, Your Holiness, for the support and assistance to Ukraine. We received the visits of two your messengers: initially Cardinal Pietro Parolin, Secretary of State, and this year - Cardinal Leonardo Sandri, Prefect of the Congregation for the Eastern Churches. Now, Holy Father, the children are expecting the visit of their Father", said His Beatitude Sviatoslav.
The Head and Father of the UGCC stressed that the Minsk accords did not function, and politicians today do not know how to end the war in Ukraine, but "our people believe that your visit, as a messenger of peace, can stop the war."
Pope Francis assured His Beatitude Sviatoslav of his support for Ukraine and said: "In front of the icon that you once presented to me in Argentina, I daily lit a candle for peace in Ukraine and pray for the end of the war."
That the meeting of the heads of the Eastern Catholic Churches with the Holy Father took place during the Assembly of the Congregation for the Eastern Churches, which is held in the Vatican from 9 to 12 October
Most Popular Articles month