Daughter of a prominent UGCC priest becomes an ambassador of Canada to Ukraine
5 November 2019, 12:20
|
Ukrainians outside of Ukraine
|
|
|
0
|
|
Code for Blog
|
|
Larysa Galadza, a professional diplomat, became a new ambassador of Canada to Ukraine. This was reported at the Ministry of Foreign Affairs of Canada.
"Larysa Galadza is appointed Canadian Ambassador to Ukraine. Ms Galadza shall take place of Roman Vashchuk," said the Canadian Foreign Ministry.
Larysa Galadza is a daughter of a well-known Greek Catholic priest from Canada, Roman Galadza, who is originally from Terpopillya.
Until recently, Larysa Galadza served as Director-General of the Peacekeeping and Stabilization Operations Department of the MFA (Canada). Before that, she worked for the Ministry of Immigration, Citizenship and Refugees. Ms Galadza began her career at the Ministry of National Defense, after which she tried herself in the public sphere. She has been to Ukraine many times in recent years.
We would like to add that the Ukrainian Greek Catholic Church of St. Elias The Prophet in Bremton near Toronto, Ontario, where Fr. Roman Galadza serves, is a parish of the Northeast Deanery of the Greater Toronto Area (Northwestern GTA Deanery) of the Diocese of Toronto and Eastern Canada of the Ukrainian Greek Catholic Church. The community adheres to the Revised Julian church calendar and exemplifies the observance of the Eastern (Byzantine) rite in the UGCC diaspora.
Fr. Roman Galadza was born in 1943, in Ukrainian village Bilokyrnytsia near the town of Pidgajtsy, Ternopil region. in 1944, the family with three children goes west. After a few years of wandering around the displaced persons' camps in Germany, the Galadza family eventually reached the US (Texas).
A year later (in 1950), Fr. Roman's parents moved to Pennsylvania, where were many Ukrainians as well as Ukrainian Greek Catholic church.
At the age of 15, Roman Galadza began his studies at a seminary in Stamford, and then in Washington. Though having grown up and being raised in America, he decided to serve his people by devoting his life to the Ukrainian Church and the Christian faith.
In 1969, he married a Ukrainian woman, Iryna. Their wedding ceremony was conducted by Lubomyr Husar who was the Head of the UGCC at the time. The young couple moved to Canada. A year later, Roman Galadza was ordinated as a priest by Bishop Isidore Borecky, who gave his blessing for him to found a parish.
Thus, in 1976, an independent parish of St. Elias was established for the further development of the Ukrainian community in Brampton with Father Roman Galadza as its pastor. When asked about the place itself, Father Roman replied: "Such is God's providence." Fr. Roman served for 10 years in a school gym where he was working as a teacher. When presented with the opportunity to buy land, they seized it. In 1995, with the people's support, they built and consecrated a parish church, which Father Roman considers to be his seventh child (he has six children).
The church was named after the Holy Prophet Elias, whose personality, according to Fr. Roman, reflects the Christian Church and the Ukrainian people: persistent, uncompromising, devoted to God, and courageous. Besides, the day of Prophet Elias is memorable for Father Roman - On August 2, 1958, he was ordinated as a priest.
Since the very beginning, liturgies have been conducted in both Ukrainian and English to appeal to young people with a better command of English. The great credit of Fr. Roman is preserving the Ukrainian language of the church. He is convinced that praying in one's native language is praying with one's heart.
On April 5, 2015, a disaster struck – the church was destroyed in a devastating fire.
The building burned down yet the church, according to Fr. Roman, remained. There was great support both from Ukrainian Catholics and Orthodox, from Roman Catholics, Protestants, as well as from various cultural and even non-Christian centers.
The church was made of wood in the Boyko style to remind the parishioners of Ukraine with its architecture. The reconstruction of the church has been completed. It looks just like the previous one, albeit modern, more durable and fire-resistant materials were used for the construction.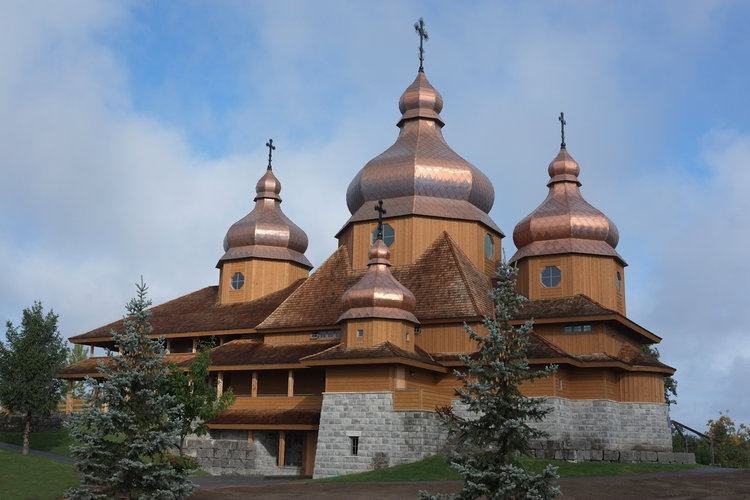 On October 1, 2016, restored Ukrainian Church of St. Prophet Elias in Bremton was consecrated by Patriarch Svyatoslav. Bishop Stephan (Khmilyar), Bishop of Toronto and Eastern Canada, Archpriest Roman Galadza, Archpriest Martyn Cavanagh, Archpriest Petro Galadza, Hieromonk Theodosius Kraychik, Fr. Michael Winn, Hieromonk Richard Suu, Protodeacon David Kennedy, Protodeacon Nazar Yaruniv, Deacon Kyrylo Pinchak, and Deacon Matthew Dunch participated in the liturgy.
Last comments
25 February 2020, 15:23

|
25 February 2020, 13:59

Я ні 31 березня, ні 21 квітня 2019 р. взагалі НЕ БРАВ участі в тих президентських виборах. Це - ПО-ПЕРШЕ. ------ А, ПО-ДРУГЕ, суто кон'юнктурний "патріотизм" п'ятого (екс)президента, як

|
25 February 2020, 12:20

velovs@ukr.net, а зелені "ліволіберальні" клоуни, які завдяки таким "критикам", як Ви, прийшли до влади і яких Ви - вони більші патріоти, ніж Порошенко?

|
24 February 2020, 14:34

Р. S. Спричинена (певними й відомими) історичними та сучасними обставинами - практична (чи майже повна) відсутність СПРАВЖНЬОЇ ("високоякісної" - фахової і дійсно компетентної) вітчизняної

|
Most Popular Articles month
8 February 2020, 15:56 | Vatican | 9 February 2020, 21:03

President Volodymyr Zelenskyy invited His Holiness Pope Francis to visit the capital and the east of Ukraine

24 February 2020, 11:26 | Church-state relations | 25 February 2020, 13:59

OPU Deputy Trofimov interferes with Church policy for the benefit of Moscow Patriarchate, - media

21 February 2020, 12:38 | International relations | 22 February 2020, 20:56

12 February 2020, 12:07 | Orthodox world | 13 February 2020, 18:55

Moscow overrates its influence on the Orthodox World, - religious expert on Amman Meeting

2 February 2020, 20:38 | Orthodox Church of Ukraine | 5 February 2020, 14:06

Representatives of Universal Orthodoxy arrive to celebrate the first anniversary of the OCU Primate's enthronement