Head of the UGCC and Canadian Ambassador discussed the social and religious situation in Ukraine
10 March 2020, 10:05
|
International relations
|
0
|
|
Code for Blog
|
|
On March 9, Patriarch Svyatoslav, Head of the UGCC, met with the Ambassador Extraordinary and Plenipotentiary of Canada to Ukraine Larysa Galadza at the Patriarchal residence at the Patriarchal Cathedral of the Resurrection of Christ in Kyiv. This is reported by the UGCC Information Department.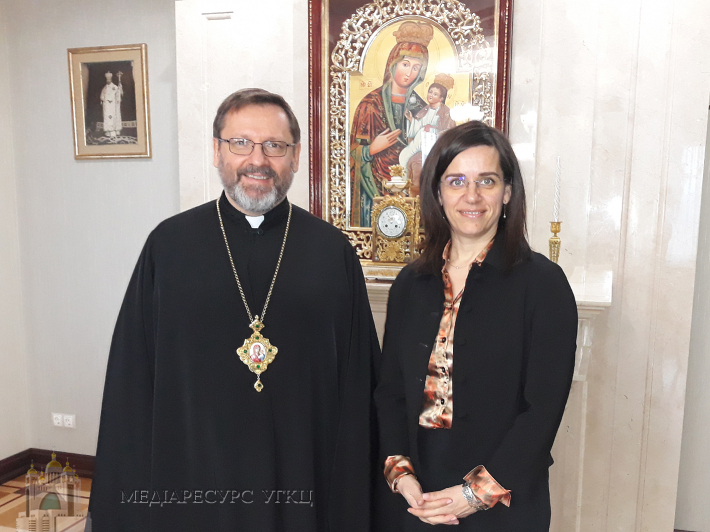 His Beatitude Sviatoslav thanked the Ambassador for his active participation in the life of our community in Kyiv and for her visit to the Kyivan Seminary of Three Saints in Knyazhychy They spoke about the active support of Ukraine from Canada and the positive results of the recent visit of the Minister of foreign Affairs of Canada to Ukraine.
"It is extremely important for our people today to feel that the world community is with us in these painful waves of history, and Canada, as a country with which we have many diverse relations, supports our state," His Beatitude Sviatoslav said.
The Ambassador shared her thoughts on the social and religious situation in Ukraine, and also noted the contribution of the UGCC to the formation of civil society based on the awareness of shared responsibility for their country and respect for the dignity of each human person. A separate discussion was held on the prevention of domestic violence in the family.
His Beatitude Sviatoslav expressed his position and spoke about a whole range of activities of the All-Ukraine Council of Churches and Religious Organizations, and in particular the UGCC, in countering both any type of violence and domestic violence in particular.
"Violence in the family is a crime against it, as a God-established cell of society, and in no circumstances can it be tolerated. The family is meant to be a school of love and an oasis of respect for men for women and parents for children. It is the common task of both relatives and the Church to help them learn to love each other, including in their own family, and to prevent violence in all its manifestations," the head of the UGCC said.
Most Popular Articles month