OCU Primate briefs Pompeo on the persecution of clergymen and believers in Donbas and Crimea
31 January 2020, 11:51
|
International relations
|
0
|
|
Code for Blog
|
|
Metropolitan Epifaniy of Kyiv and all Ukraine met with US Secretary of State Michael R. Pompeo during the latter's visit to Kyiv on January 31, 2020. The meeting took place on the territory of St. Michael's Golden-Domed Monastery, which is the administrative center of the local Ukrainian Orthodox Church. It was preceded by a joint ceremony honoring the memory of the fallen defenders of Ukraine - the laying of flowers at the Wall of Memory.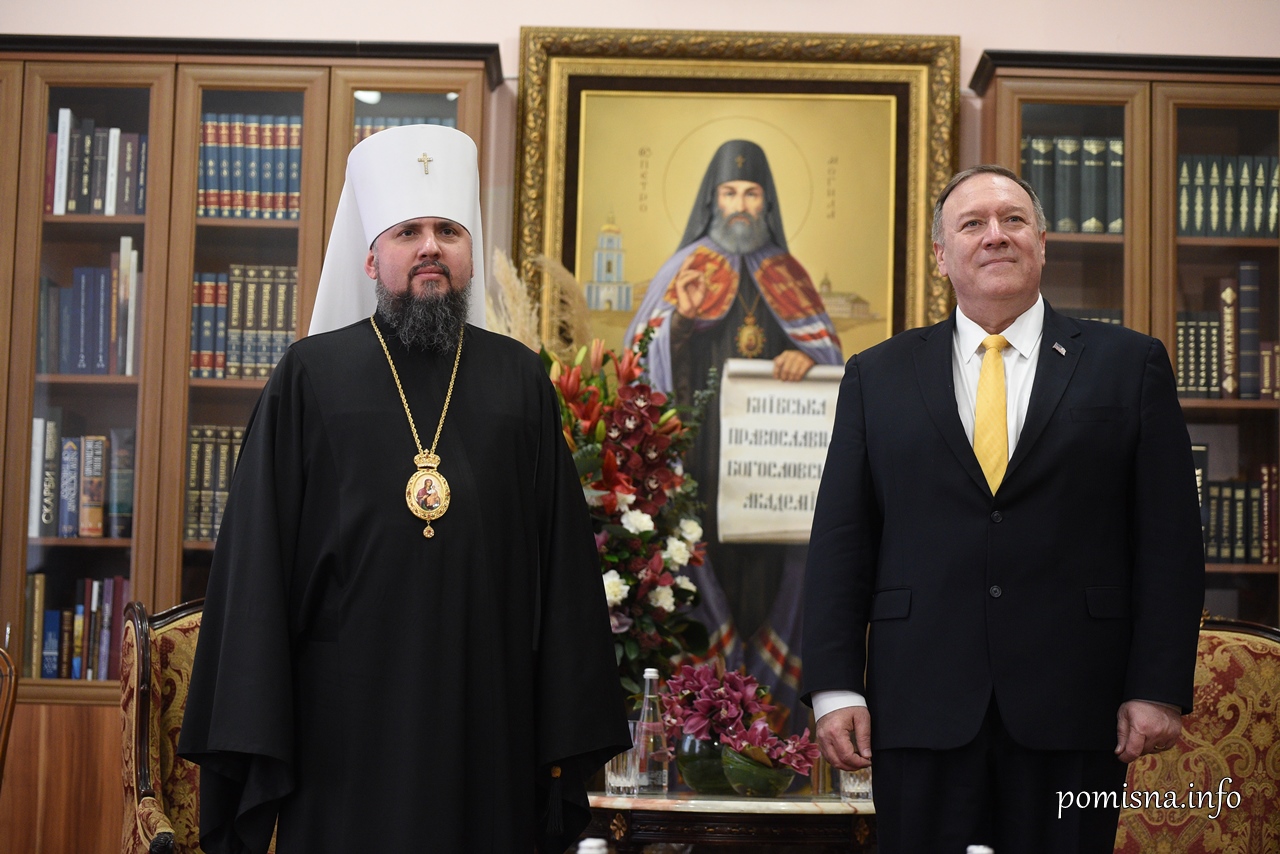 According to the official website of the OCU, the guest was briefed on the establishment of the Orthodox Church of Ukraine, society and state interaction, as well as the expansion of international relations of the OCU.
Special attention was paid to challenges for the Local Ukrainian Orthodox Church, in particular in the temporarily occupied territories of Donbas and Crimea. Russia, as the state de facto responsible for the condition of the occupied territories, must adhere to international standards relating to freedom of religion and belief, in particular, to stop the persecution and systematic restriction of the rights of the clergy and communities of the Orthodox Church of Ukraine.
His Beatitude expressed gratitude to the American side for the firm and reliable support of Ukraine both in the context of countering external challenges that our country continues to face and on the way to statebuilding and democratic reforms.
Metropolitan Epifaniy called for continuing this support and strengthening Russia's sanctions deterrence until the violation of human rights in the occupied territories is completely stopped, their liberation from occupation and the restoration of Ukraine's territorial integrity and sovereignty within internationally recognized borders.
They also discussed other issues and agreed to further support bilateral contacts, especially in the area of protecting freedom of conscience and religion.
The meeting was also attended by Metropolitan Dymytry of Lviv and Sokal (Rudyuk), Chairman of the Patronage Council of the Metropolitan Fund of the Orthodox Church of Ukraine Andriy Matsola, legal advisers of His Beatitude Andriy Romanchuk and Maryan Martynyuk, as part of the delegation from the United States – Charge D'affaires of the United States of America in Ukraine Christina Quinn, Acting Assistant Secretary of State in the Bureau of European and Eurasian Affairs Philip Reeker, State Department spokeswoman Morgan Ortagus, and Senior Advisor to U.S. Secretary of State Mary Kissel.
After the meeting, the Secretary of State, accompanied by Metropolitan Epifaniy, toured the St. Michael's Golden-Domed Cathedral.
It should be noted that Metropolitan Epifaniy and Secretary of State Pompeo already met in October last year in Washington during the official visit of His Beatitude to the United States.
Most Popular Articles month
8 February 2020, 15:56 | Vatican | 9 February 2020, 21:03

President Volodymyr Zelenskyy invited His Holiness Pope Francis to visit the capital and the east of Ukraine

12 February 2020, 12:07 | Orthodox world | 27 February 2020, 19:04

Moscow overrates its influence on the Orthodox World, - religious expert on Amman Meeting

24 February 2020, 11:26 | Church-state relations | 25 February 2020, 13:59

OPU Deputy Trofimov interferes with Church policy for the benefit of Moscow Patriarchate, - media

21 February 2020, 12:38 | International relations | 22 February 2020, 20:56

2 February 2020, 20:38 | Orthodox Church of Ukraine | 5 February 2020, 14:06

Representatives of Universal Orthodoxy arrive to celebrate the first anniversary of the OCU Primate's enthronement