Festival " Ukrainian Christmas" to be held in Tokyo
26 November 2019, 11:38
|
International relations
|
0
|
|
Code for Blog
|
|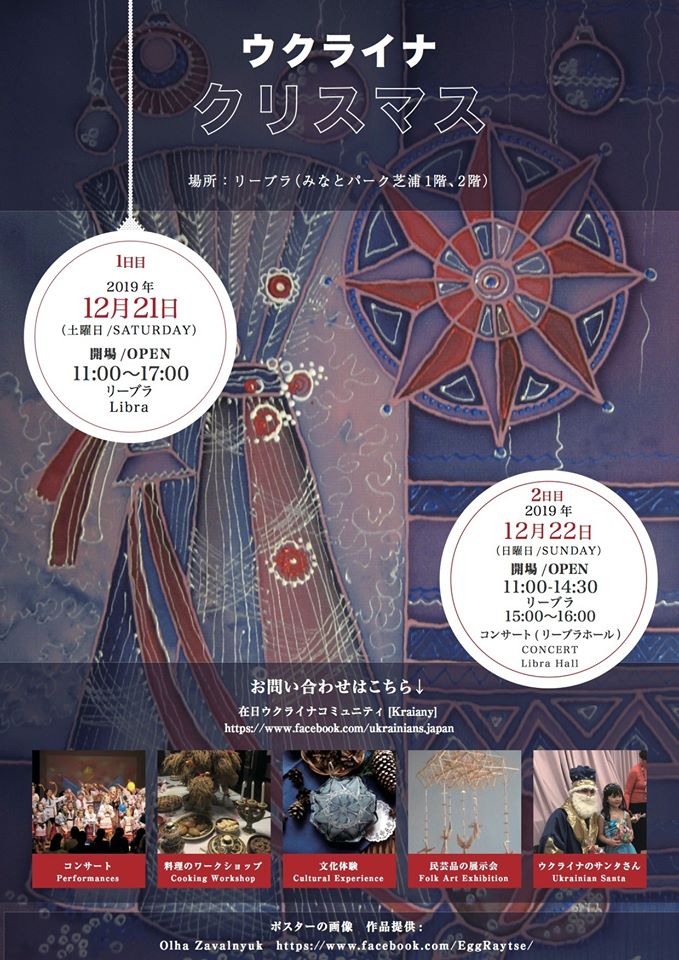 The two-day festival "Ukrainian Christmas" will be held on December 21-22 in Tokyo. This is stated on the page of the community of Ukrainians in Japan "Krayany" on Facebook, according to UKRINFORM.
"Winter holidays are probably the most favorite time for us, Ukrainians. Wherever we are, we keep traditions! This year we have the opportunity to introduce our Japanese friends and friends from other countries with an interesting and colorful celebration! We invite you to the two-day festival "Ukrainian Christmas", goes the statement.
It is reported that the guests of the holiday will have the opportunity to learn how to make Ukrainian charms, paint "mykolaychiky" - gingerbread baked according to the traditional Ukrainian recipe, cook Ukrainian dishes.
"St. Nicholas reveres fairy tales for children, obedient will bring small gifts. There will be an opportunity to listen and sing carols together, and many more interesting things are waiting for you on December 21 and 22," the social network says.
The event was organized by the Ukrainian community in Japan "Krayany", the Embassy of Ukraine in Japan And the Ukrainian school "Dzhereltse" in cooperation with the district of Minato-ku and with the support of the Mission of the Orthodox Church in Japan.
Most Popular Articles month