UGCC Patriarch met with Austrian politicians and foreign minister
12 November 2019, 11:33
|
International relations
|
0
|
|
Code for Blog
|
|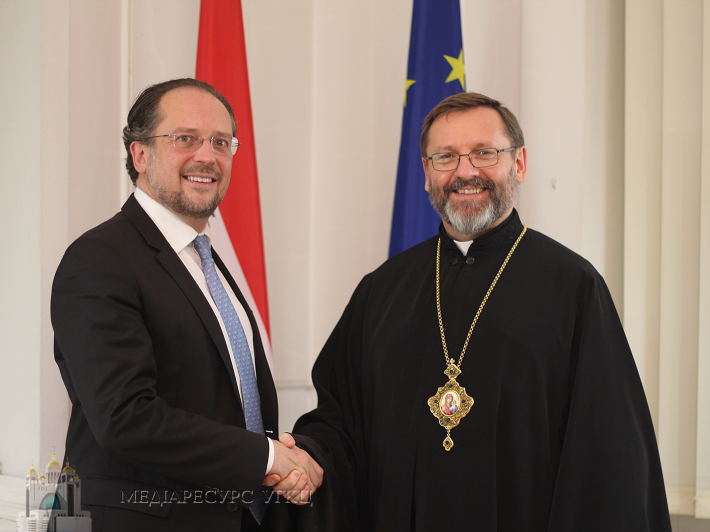 On November 11, 2019, Patriarch Sviatoslav of the Ukrainian Greek Catholic Church met with foreign Minister Alexander Schalenberg during his visit to Austria. This is reported by the Information Department of the UGCC.
At the meeting, the head of the UGCC thanked for the support of Ukraine and its territorial integrity. He also expressed gratitude for the consistent mediation mission carried out by Austria in relations with both Ukraine and Russia in order to put an end to Russia's military aggression against Ukraine through diplomatic efforts.
"We very much appreciated his gesture of visit first to Ukraine and then to St. Petersburg in the following days. For this is a clear diplomatic signal in support of our state," His Beatitude Sviatoslav said in a comment to the UGCC information Department."
The parties also discussed the role of the Church, "to do everything to heal the wounds caused by the war, to heal all possible relations between people and, obviously, to consolidate the Ukrainian people, who want to see their state as part of the European community of peoples."
On the same day, the Head of the UGCC met with members of the Christian democratic party of the Austrian Parliament, Dr Gudrun Kugler, Chairman of the Committee that deals with human rights, and Norbert Sieber, Chairman of the Committee that is responsible for family and family policy. The meeting was held at the request of the deputies.
"In the first place, we talked about Christian values in politics. We noted that a truly successful state should adopt the experience of the social teaching of the Church, that Christians should be active in politics and make their contribution to the construction of a just society," Patriarch Sviatoslav said.
The day before, the head of the UGCC met with the Apostolic Nuncio in Austria, Archbishop Pedro Lopez Quintana. The President of Pro Oriente, Dr Alphonse Klos, and the Ambassador of Ukraine to Austria, Oleksandr Shcherba, were invited to this meeting. His Beatitude Svyatoslav was accompanied by Fr Yuri Kolasa, Vicar for the faithful of the Eastern Catholic Churches in Austria.
Most Popular Articles month