Metropolitan Epifaniy met with foreign ambassadors
9 June 2019, 11:59
|
International relations
|
0
|
|
Code for Blog
|
|
On June 8, Metropolitan Epifaniy of Kyiv and All Ukraine met with foreign ambassadors accredited in Poland. Among them were Ambassadors from Europe, Africa, Asia, USA, the official website of the Orthodox Church of Ukraine reports.
The meeting was also attended by Deputy Chairmen of the Department for External Church Relations, Archbishop Yevstratiy of Chernihiv and Nizhyn and Archbishop Ilarion of Rivne and Ostroh.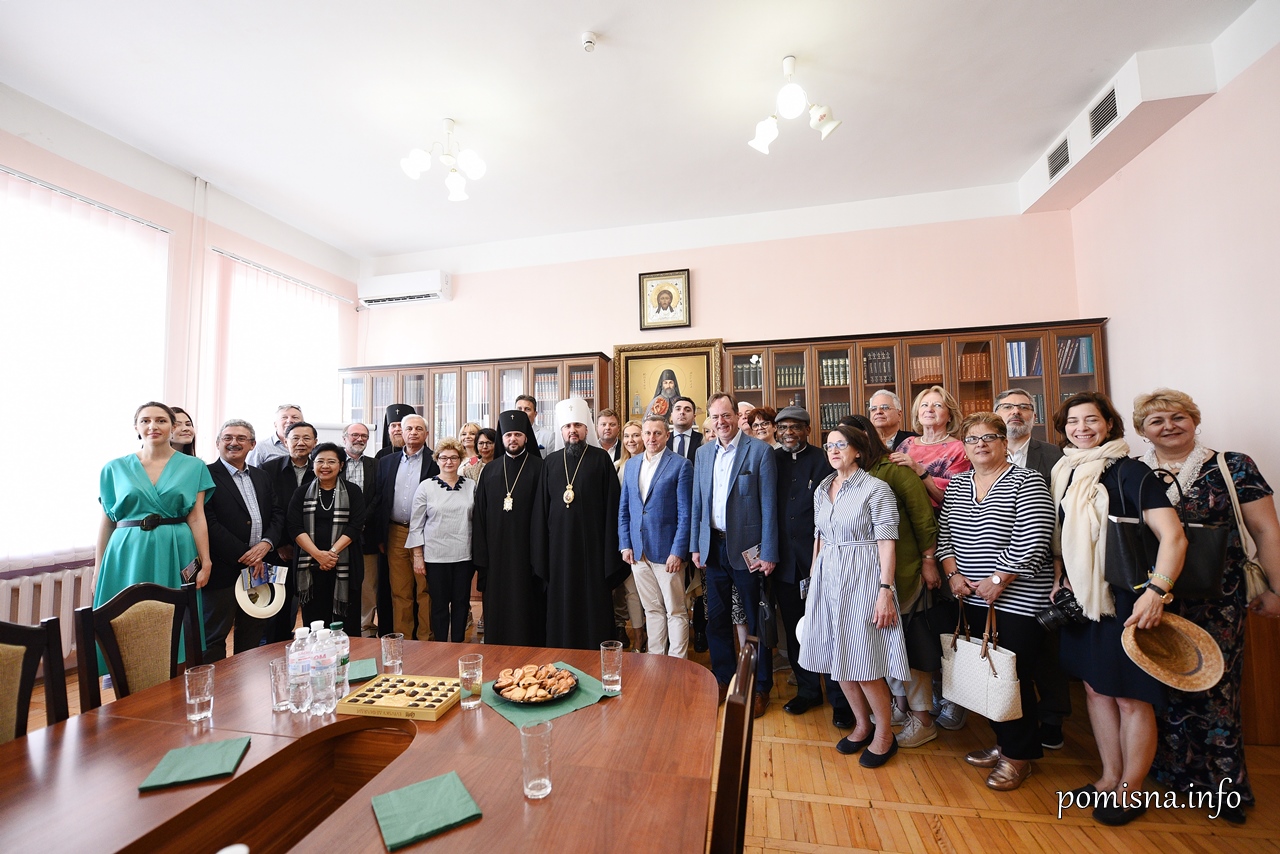 During the meeting, the parties discussed the latest events in the Ukrainian Church, the economic and political issues, both at the international arena and in Ukraine.
"We have been waiting for a long time and have worried a lot for Ukraine to get its own Church, and it happened. Many ambassadors asked me about the formation of the Ukrainian Church. And the best way for this is to meet with You, Your Beatitude, to hear about the latest developments in the Ukrainian Church," said Ambassador Extraordinary and Plenipotentiary of Ukraine to Poland Andriy Deshchytsia.
The Primate described the recent events in the Ukrainian Church and stressed the special role of St Michael's Monastery.
"It is St Michael's Golden-Domed Monastery and the Cathedral that is the center of our Ukrainian Orthodox Church. St Michael's Monastery has played an important role in the life of not only our Church, but also of the entire Ukrainian state. Thousands of graduates of the Kyiv Orthodox Theological Academy perform their pastoral ministry in our Ukrainian state. In particular, these are young bishops who constitute the basis of our local Ukrainian Orthodox Church," said Metropolitan Epifaniy.
The Primate also noted that the Church is directly involved in state-building.
"We have gained our spiritual independence and laid the foundation for the unity of Ukrainians in the one local Ukrainian Orthodox Church, but there is still much to be done to unite all Orthodox Ukrainians around Kyiv because there is still a small part of those who want to belong to the Russian Orthodox Church in Ukraine," said the Primate.
His Beatitude also answered questions about both the institute of chaplaincy and the state of the parishes of the Ukrainian Orthodox Church in the occupied Crimea and Donbas.
At the end of the meeting, the foreign guests made a tour of the Kyiv Orthodox Theological Academy and St. Michael's Golden-Domed Monastery.
Most Popular Articles month