His Beatitude Sviatoslav: Heroes of the Heavenly Hundred are for us the standard of truth, justice, and love for our neighbor
21 February 2020, 09:47
|
National religious question
|
0
|
|
Code for Blog
|
|
On February, 20 at 19:00, bells in the temples of the UGCC remembered great sacrifice of the Heroes of the Maidan in the struggle for the freedom and independence of Ukraine. Such an order was issued by His Beatitude Sviatoslav in response to requests from the families of the Heroes of Heavenly Hundred.
While on a working visit to the Vatican and Italy, the Head of the UGCC led memorial services at St. Sophia's Procathedral in Rome.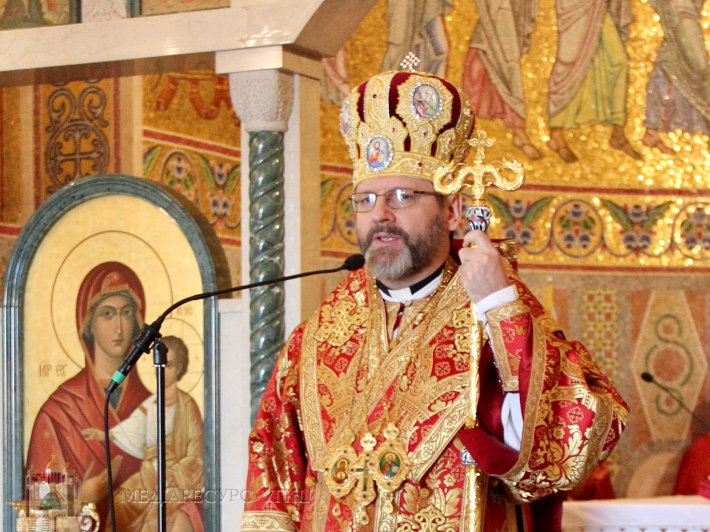 the Head of the UGCC mentioned the "anniversary of the sacrifice of the Heroes of Heavenly Hundred." "Today, there is a small wooden church of Ukrainian martyrs on Institutska Street. There, we store special relics of those tragic events, including a vestment which has drops of human blood on it," said the Head of the UGCC.
"In commemoration of the heroes of the Maidan, today we pray for their eternal peace and thank the Lord God for them, Their sacrifice, their blood spilled on the cobblestone of Kyiv, has become for us Ukrainians forever the standard according to which we measure our social, social and even church life today," emphasized the preacher.
His Beatitude Sviatoslav also spoke about the anxiety and pain of the families of the fallen Heavenly Hundred Heroes over the lack of court decisions to punish those guilty of shedding blood on the Maidan. "May the gracious Lord accept the sacrifice of our sons and daughters, and may their blood and sacrifice will be a guarantee that we will never again fall under the yoke of ungodly power that denies Ukraine's right to freedom."
Prayer worship honoring the memory of the Heavenly Hundred Heroes ended with a memorial service at the cross in the Cathedral and a memorial service with the participation of the children of St. Sophia Sunday School.
The Secretariat of the Head of the UGCC in Rome report.
Last comments
6 April 2020, 05:08

|
5 April 2020, 09:21

Можливо хоч випадок інфікування ієрарха заставить "віруючих" серйозно ставляться до рекомендацій влади щодо збереження свого здоров'я та своїх близьких. А у поважних представників

|
4 April 2020, 15:26

Для вірних поважного віку ситуація не так уже й незвична. Вони пам'ятають, коли міліція, у формі і без, пильно слідкувала за участтю вірних у святкових богослужіннях. Вже не говорю про вірних

|
Most Popular Articles month