Patriarch Sviatoslav presents UGCC's vision of the European integration model to Deputy Prime Minister of Ukraine
7 February 2020, 14:57
|
Church-state relations
|
0
|
|
Code for Blog
|
|
On February 6, 2020, his Beatitude Sviatoslav, Head of the UGCC, met with Dmytro Kuleba, Vice Prime Minister for European and Euro-Atlantic Integration of Ukraine. They talked about European identity, the Istanbul Convention, and gender ideology. The meeting was initiated by the Deputy Prime Minister.
According to the UGCC Information Department, His Beatitude Sviatoslav presented the UGCC's vision of the European integration model. He noted that Ukraine and Ukrainians are already part of the European space because they retain their European identity and culture. "We are not going to Europe, but returning to the European community of peoples," the head of the UGCC said.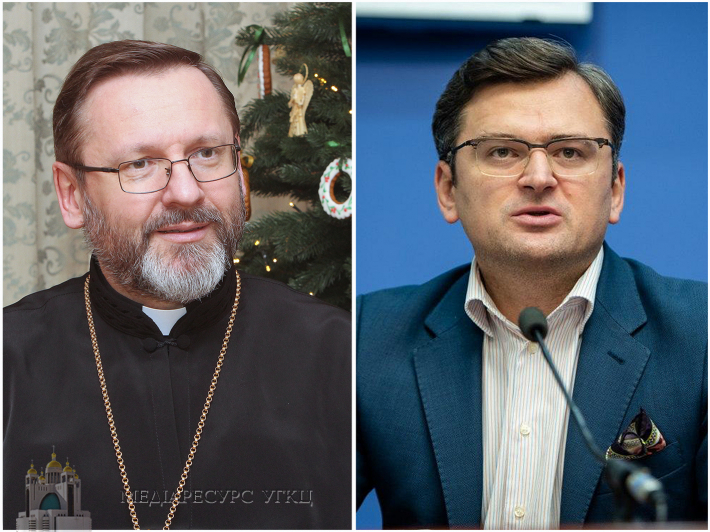 At the same time, he mentioned the visit of a delegation of the All-Ukraine Council of Churches and Religious Organizations to Brussels in 2013, during which they presented the European aspirations of the Ukrainian people to EU officials.
Another topic of conversation was the Istanbul Convention. The Head of the UGCC spoke about the measures that the Church was taking to combat and prevent domestic violence. He noted that this even his Christmas addressed this issue, which was read in all churches of the UGCC.
His Beatitude Sviatoslav stressed the need for the development of the law of Ukraine on prevention of domestic violence. "Our legislation in this area should be perfect enough that no discussion about the Convention might arise," he explained.
During the meeting, participants also referred to gender ideology. The head of the UGCC presented a Christian vision of human sexuality. He noted that the UGCC has a clearly articulated position on this issue and that it is open to dialogue with everyone who is interested in this topic. As an example, his Beatitude Sviatoslav spoke about the Message of the Synod of Bishops of the Kyiv-Galician Supreme Archbishopric of the Ukrainian Greek Catholic Church regarding the danger of gender ideology. It was released in December 2016.
Last comments
4 June 2020, 13:46

|
4 June 2020, 13:39

За часів союза, УПЦ підлягала моіковському патріярхату, примусово. Від незалежності УПЦ старалась отримати незалежність від Москви. Тепер, коли Україна має ТОМОС та незалежність то Лавру потрібно

|
2 June 2020, 15:54

Последние события показали глубокий кризис РПЦ МП, где только отдельные редкие священнослужители твёрдо исповедуют Православную Веру, как схиигумен отец Сергий Романов, которого сейчас травят

|
Most Popular Articles month
28 May 2020, 16:06 | Scandals, crime | 30 May 2020, 07:10

Icons, books and other valuables are being taken from Kyiv-Pechersk Lavra to Moscow

12 May 2020, 12:12 | AUCCRO, inter-confessional councils | 13 May 2020, 19:26

AUCCRO suggests the government ease quarantine restrictions for religious organizations

29 May 2020, 11:37 | Religion and society | 30 May 2020, 07:04

Journalists calculated millions that Moscow Patriarchate earns monthly in Ukraine

23 May 2020, 09:35 | Church-state relations | 23 May 2020, 15:23

Zelensky responded to the petition for withdrawing Kyiv-Pecherck Lavra from UOC-MP

12 May 2020, 10:23 | Orthodox Church of Ukraine | 13 May 2020, 10:44

Hellenic Republic Council of State rejects the demand of pro-Moscow organizations to cancel the recognition of the Autocephalous Church of Ukraine by Greek Church