Archbishop Klyment wants the West to impose sanctions on organizers of elimination of OCU in Crimea
12 February 2019, 15:50
|
Church-state relations
|
0
|
|
Code for Blog
|
|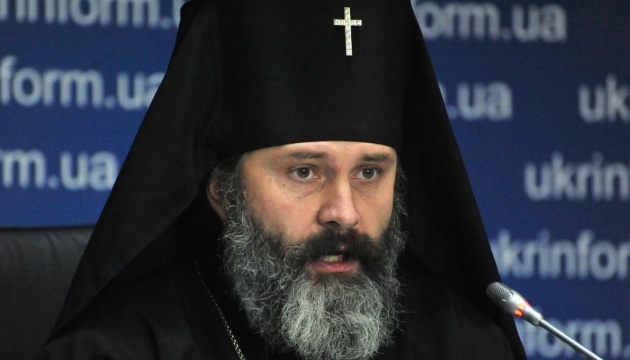 If the invaders seize the Cathedral in Simferopol, Archbishop Klyment of Simferopol and Crimea will ask the international community to impose personal sanctions on the organizers of the elimination of the OCU in Crimea.
He stated this at a press conference entitled "Elimination of the Ukrainian Church in the Occupied Crimea," Ukrinform reported.
"I want to appeal to the international community, ambassadors of European countries, the United States of America and Canada in Ukraine, to take the situation under their personal control, so that in case of intensified pressure and liquidation of the Ukrainian Church in Crimea, personal sanctions are imposed, and not only on those who signed this resolution [on the termination of the agreement on the lease of the premises of the Cathedral in Simferopol to the Crimean diocese of the UOC-Kyiv Patriarchate, ed.], but also directly against the leadership of the Russian Federation,"said the archbishop.
In addition, he expects the Ministry of Justice of Ukraine to bring a case against seizure of assets by the Russian Federation on the territory of Ukraine.
As reported, on February 5 the so-called "Ministry of Property and Land Relations of the RK" sent to the Office of the Crimean Diocese a letter on the termination of the agreement of 2002 on the lease of premises of the Cathedral in Simferopol to the UOC-KP and the administration of the diocese. The occupiers demand to vacate the premises in early March. Archbishop Klyment believes that in the event of the liquidation of the Cathedral, eight Crimean parishes located in the countryside will also cease their activities, and thus the Ukrainian Church on the peninsula will be eliminated.
Most Popular Articles month
22 January 2020, 10:50 | UGCC | 24 January 2020, 10:46

Chief rabbi of Ukraine asks Yad Vashem to recognize Andrey Sheptytsky as Righteous Among the Nations

13 January 2020, 11:14 | Religion and policy | 17 January 2020, 18:36

Metropolitan Agafangel of UOC-MP "endures a night of persecution" by Ukrainian adepts of Devil

21 January 2020, 10:28 | UOC KP | 21 January 2020, 19:51

20 January 2020, 11:26 | National religious question | 21 January 2020, 11:55

26 December 2019, 08:27 | Vatican | 26 December 2019, 16:46

Patriarch Sviatoslav names three conditions for The Pope's visit to Ukraine