At secretive meeting with priests, Filaret explained how he will restore UOC-KP
5 June 2019, 10:41
|
Orthodox Church of Ukraine
|
4
|
|
Code for Blog
|
|
At a meeting with the Kyivan clergymen, which took place on Monday, June 3, Patriarch Emeritus Filaret specified the manner in which he was going to officially restore the activities of the Kyiv Patriarchate.
TSN has learnt it from people familiar with the matter.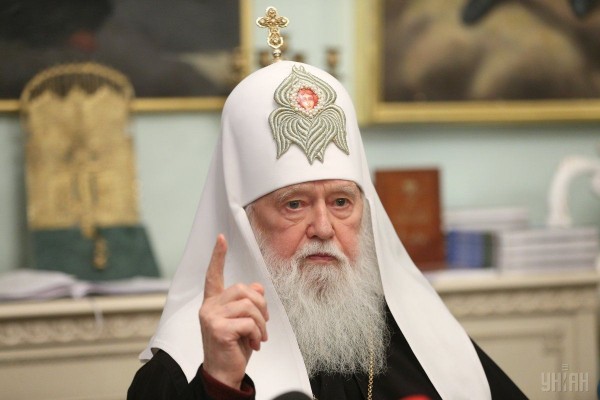 "Now our task is to preserve the Kyiv Patriarchate. No matter in what amount. But it must exist," he said.
For this purpose, the head of the Diocese of Kyiv urged parishes not to get registered as part of the Orthodox Church of Ukraine.
"I have only one request for you – do not re-register parish charters as the so-called OCU. Now they will put pressure on you to re-register as part of the OCU and if someone re-registers he leaves the Kyiv Patriarchate. That is, we do not proceed from the Tomos because it is a new Church. Aas they say about themselves "we are a new Church", while the Kyiv Patriarchate has existed for 30 years. So who's splitting from whom? It is the OCU that splits from the Kyiv Patriarchate," the Patriarch Emeritus said.
He also announced his intention to convene a Local Council, which, in his opinion, can revert the official status of the Kyiv Patriarchate.
"We are trying to convene a Local Council, and this Council will decide on the existence of the Kyiv Patriarchate. The Kyiv Patriarchate will continue to exist legally, because the KP was created by the Local Council and only a Local Council, not the Council of Bishops, can liquidate it. Even if the Council of Bishops liquidates it, its decision must be accepted or rejected by the Local Council. Our opponents felt it, and therefore distributed a false document – the decision of the Local Council of December 15 on the dissolution of the Kyiv Patriarchate. There was no Local Council," stressed Bishop Filaret.
Most Popular Articles month
26 November 2019, 11:05 | Orthodox Church of Ukraine | 26 November 2019, 18:44

Petro Poroshenko urges international community to support the independence of OCU

17 November 2019, 10:00 | International relations | 19 November 2019, 07:46

In Lviv, Yad Vashem is requested to recognize Andrei Sheptytsky as Righteous Among the Nations

26 November 2019, 09:55 | UGCC | 26 November 2019, 11:33

UGCC Patriarch discusses Patriarchal Council in Lviv with the head of Lviv regional state administration

11 November 2019, 13:46 | Jurisprudence | 12 November 2019, 09:04

28 November 2019, 10:02 | Inter-Orthodox relations | 28 November 2019, 20:07