Church archpastors congratulate christians on Nativity
26 December 2019, 12:46
|
Religious holidays and traditions
|
2
|
|
Code for Blog
|
|
In the Christmas Message "Urbi et Orbi", Pope Francis draws attention to the children who are now suffering from wars and conflicts around the world. He wished that little Infant of Bethlehem became the light and hope of the American continent, the light of the Holy Land, consolation for the Syrian people for Iraq, imbued with social tensions and Yemen experienced a serious humanitarian crisis.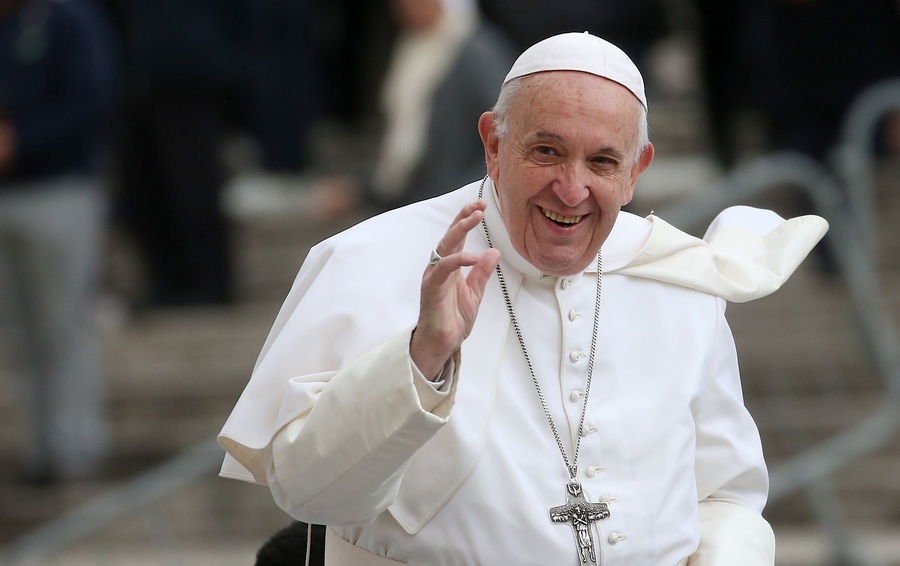 In his address, the Pope mentioned our state: May the Redeemer of the world bring light to beloved Ukraine, which years for concrete solutions for an enduring peace."
"May the Son of God, come down to earth from heaven, protect and sustain all those who, due to these and other injustices, are forced to emigrate in the hope of a secure life. It is injustice that makes them cross deserts and seas that become cemeteries. It is injustice that forces them to endure unspeakable forms of abuse, enslavement of every kind and torture in inhumane detention camps. It is injustice that turns them away from places where they might have hope for a dignified life, but instead find themselves before walls of indifference.
"May Emmanuel bring light to all the suffering members of our human family. May he soften our often stony and self-centred hearts, and make them channels of his love. May he bring his smile, through our poor faces, to all the children of the world: to those who are abandoned and those who suffer violence."
In his Nativity Epistle, Ecumenical Patriarch Bartholomew declared the year 2020 "the year of pastoral renewal and due care for youth".
Young people must recognize that the Church is not a "union of Christians" but the "Body of Christ." We call the reverend clergy of the Holy Great Church of Christ throughout the world to a "kenotic" pastoral mobilization. We should not wait for our young men and women to come to us, but we should reach out to them ourselves, not as judges but as friends, in imitation of the "good shepherd," who "gives his life for his sheep" (John 10.11). A shepherd is always vigilant and on guard, aware of the pastoral needs of the youth and their social environment in order to act accordingly. His pastoral intervention draws inspiration and direction from the tradition of the Church, offering young people not merely "support" but the "truth" of freedom "to which Christ has set us free." (Gal. 5.1)
With these thoughts, we devoutly worship the Holy Child of Bethlehem and wish all of you from the festive Phanar a blessed Holy Twelvetide as well as a fruitful new year of our Lord, invoking on you the life-giving grace and great mercy of our Savior Christ, who condescended to the human race, the "God with us."
The Hierarchy of the Ukrainian Catholic Church in the United States in their Christmas greetings wished the faithful to acquire a deep personal experience of God's presence in life, in their families and communities.
We propose that this Christmas we all sit down and attentively read the Nativity narrative (Luke 2:1-20, Matthew 1:18-2:18). Let us do so quietly, in our homes, with an icon and candle, with the starlit sky shining through the window, reading alone or with those dear to our heart.
Let us reflect on the mystery of a God who becomes one of us, and share with others what we see and hear. When we share, our joy doubles. When we bring encouragement to those who might be sad, their sadness is cut in half.
The Mother of God was called to carry the Word of God in her womb and to give birth to the Messiah in Bethlehem. Joseph carried the Infant to safety in Egypt. We are called to carry His Salvation to our sisters and brothers — by our peace, by our love, by the way we relate to those with whom we live and work.
This Christmas we wish for you that your family, your profession, your efforts, your rest and relaxation may be permeated with the joy of the Nativity, no matter what your situation might be — material or spiritual.
We have been given much. We have received God Himself in our lives! Having received, let us give to others so that peace and joy may reign on this earth.
We remain your humble servants in the newborn Messiah.
In their Nativity Epistle, the members of the Permanent Conference of Ukrainian Orthodox Hierarchs beyond the Borders of Ukraine remind us that the Son of God is born to give us hope that we are not alone, we are not abandoned, we are not orphans, that God is with us.
"The heart of every faithful believer is filled with great joy because the Savior is born. He came into the world to sacrifice Himself for us. He alone can bring salvation to all humanity and cleanse us from our sins and overcome death.
Today the heavens and the earth rejoice; the angels in heaven declare: "Glory to God in the highest, and on earth peace, goodwill towards men." (Luke 2:14). The poor shepherds were the first to honor, to worship the Newborn Savior. We shall also send our hearts and prayers to the cave of Bethlehem, so that the little Christ will also bless us, fill us with His abundant graces and generosity, with peace and joy, and grant us spiritual and bodily powers to live with and for Him.
We sincerely greet the pious Ukrainian people in Ukraine and all those dispersed throughout all the corners of the earth - in the United States, Canada, Western Europe, Australia, New Zealand and South America - with a joyous Nativity Feast, and we prayerfully wish that the New Year, 2020, will be peaceful and blessed by the Lordю
Most Popular Articles month