Ukrainian pilgrims meet with Pope Francis
29 August 2019, 11:00
|
Religious ceremonies and pilgrimage
|
4
|
|
Code for Blog
|
|
Ukrainian Greek Catholic pilgrims and sisters of the Congregation of the Servants of the Immaculate Virgin Mary took part in the general audience with the Holy Father. This is reported by the Information Department of the UGCC.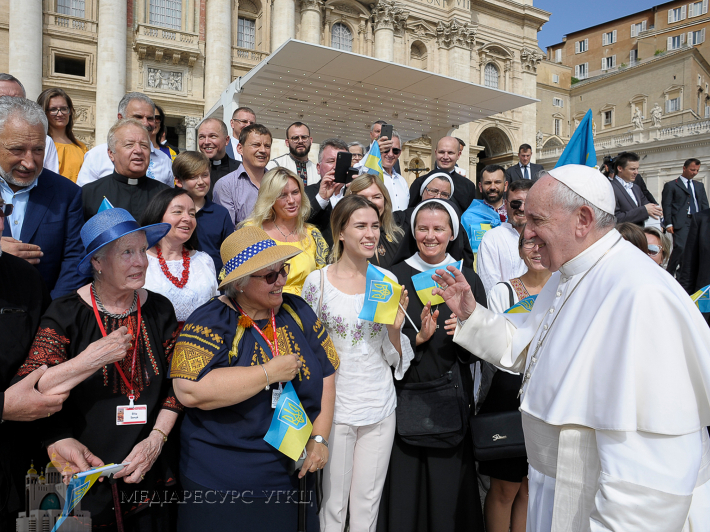 In St. Peter's Square in the Vatican, the Ukrainian Christian greeting sounded again from the lips of Pope Francis.
"I welcome the participants of the Ukrainian pilgrimage," he said in Italian at the end of the general audience on Wednesday, August 28, 2019, and then added in Ukrainian: "Glory to Jesus Christ!" to which the multi-voiced gathering of pilgrims replied, "Glory forever".
The meeting with Pope Francis opened the all-Church pilgrimage of the Ukrainian Greek Catholic Church to Rome on the occasion of the 50th anniversary of the consecration of the St Sophia Cathedral.
The further program provides for a forum with the participation of members of the St. Sofia Association, the Liturgy at the tomb of St. Josaphat in St. Peter's Basilica (August 29), the Liturgy in the Basilica of Saint Clement the Pope (30 August), visit to St Sophia and the Museum of Patriarch Iosyp Slipyy, which is located there, the Great Hierarchal Vespers led by the Head of UGCC, the demonstration of the documentary film by Olena Moshynska Patriarch (31 August) and the solemn Divine Liturgy on Sunday, September 1 with the participation of all members of the Synod of Bishops.
In a separate speech, Pope Francis mentioned sisters from the Congregation of the Servants of the Immaculate Virgin Mary, who were present at St. Peter's Square, who gathered in the Eternal City, who came from Ukraine and all places of service in different parts of the world to take part in the celebrations on the occasion of the 100th anniversary of the birth of the co-foundress, the Blessed Josaphata Hordashevska.
The central event will be the divine Liturgy in the Pontifical Basilica of Santa Maria Maggiore, which on Thursday, September 5, will be led by the Head of the UGCC, His Beatitude Sviatoslav in concelebration with the bishops of the Synod of the UGCC.
Last comments
22 February 2020, 18:50

|
22 February 2020, 13:09

Сама назва статті звучить невірно чим вводить читача в оману ) Бо всі перераховані церкви не являється православними. Так, вони древні, християнські.. Але, в силу політичних факторів свідомо не

|
21 February 2020, 13:03

Чомусь усі "забули", хто накрутив скандал і налякав людей. 17.02.2020 "...Дубинский обратился к жителям Обуховского района и заверил их, что размещения украинских граждан из Китая на

|
18 February 2020, 18:42

Не завадило б ввести подібне ( відсторонення архієреїв від управління, по досягненню певного віку) і в православній церкві України. Це могло б попередити і унеможливити маніянально-шизофренічні

|
Most Popular Articles month