Ukrainian Jerusalem blessed in Zarvanytsia
28 August 2018, 10:28
|
Religious ceremonies and pilgrimage
|
0
|
|
Code for Blog
|
|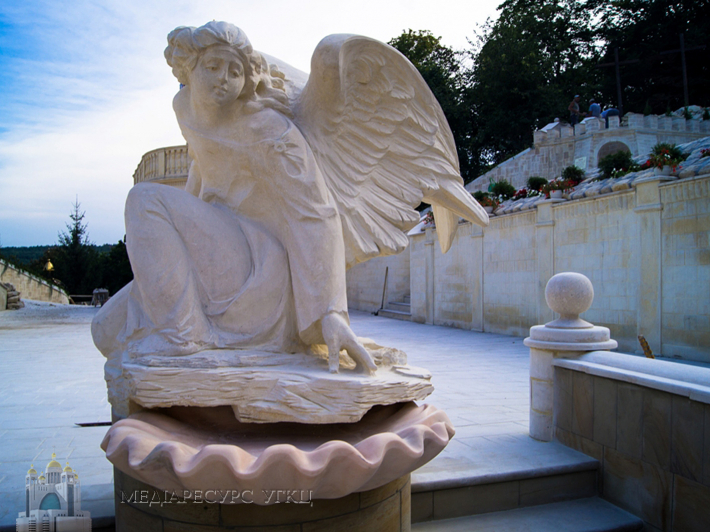 On August 27, Patriarch of the Ukrainian Greek Catholic Church Svyatoslav (Shevchuk) blessed the unique complex dubbed Ukrainian Jerusalem at the Marian Spiritual Center of Zarvanytsia. The worship was attended by the Custos of the Holy Land, Frt Francesco Patton, OMF, who brought a stone from the Holy Sepulcher. The holy relics will be built into a copy of the building in Zarvanytsia.
According to the Department of Information of the UGCC, His Beatitude Svyatoslav greeted the assembly of archbishops of the UGCC, led by Archbishop and Metropolitan Vasyl (Semenyuk) of Ternopil and Zboriv, about a hundred priests and a large number of faithful.
At first, everyone attended the Cathedral of the Mother of God of Zarvanytsia where the prayer service to the Holy Theotokos was performed before the wonderworking icon. Then the procession under the majestic sound of the bells took to the top of the hill past the station of the Cross Road, to the place of blessing.
Construction of a unique complex of religious buildings of the Holy Land began in the summer of 2014. During this time, the professionals were able to reproduce a copy of the Holy Sepulcher, the Calvary, the mountain on which Jesus Christ was crucified, the olive garden where Jesus prayed before His arrest, the Stairs of Repentance (Holy Stairs) which Jesus Christ ascended on His way to Pilate's trial; the pool of Bethesda where He healed the sick, the Lion (Lions) Gate, and the Tower of David.
Last comments
22 February 2020, 19:28

|
22 February 2020, 18:50

В своїх офіційних назвах більшість цих Давньосхідних Церков носять це означення - "православні". І за своїм літургічним обрядом вони також досить близькі до "автентично"

|
22 February 2020, 13:09

Сама назва статті звучить невірно чим вводить читача в оману ) Бо всі перераховані церкви не являється православними. Так, вони древні, християнські.. Але, в силу політичних факторів свідомо не

|
21 February 2020, 13:03

Чомусь усі "забули", хто накрутив скандал і налякав людей. 17.02.2020 "...Дубинский обратился к жителям Обуховского района и заверил их, что размещения украинских граждан из Китая на

|
Most Popular Articles month