Next year, three or four Churches to recognize our autocephaly, Primate of OCU
11 December 2019, 10:33
|
Inter-Orthodox relations
|
0
|
|
Code for Blog
|
|
The following year, the OCU will be recognized by several local Orthodox Churches. Head of OCU Epifaniy said this in an interview with Ukrayinska Pravda.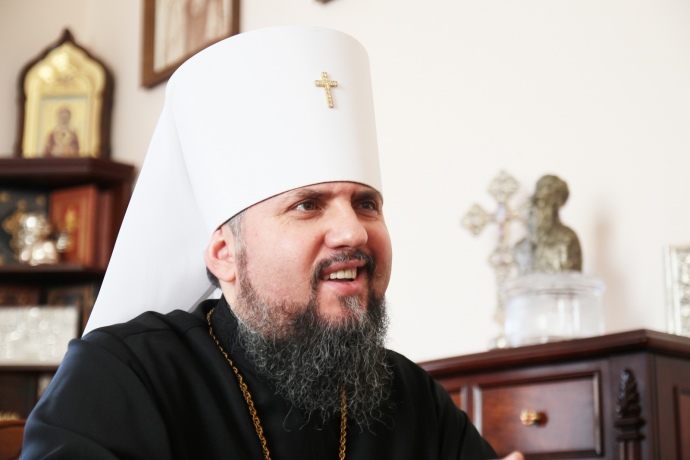 "Now we have clear and good signals from several local Orthodox Churches," the first Hierarch said.
"Next year, I think at least three or four Churches will recognize our autocephaly. Gradually. But it is very fast, all testify that autocephaly of any Church was never recognized so quickly. It's only been one year," he added.
Primate Epifaniy noted that Moscow exerts insane pressure on the hierarchs who are ready to recognize the autocephaly of the OCU.
"Of course, it is a great achievement for the Orthodox Church of Ukraine that during this year we received recognition from two local Orthodox Churches, which play an important role in Orthodoxy. It is the Greek Orthodox Church and the Patriarchate of Alexandria, because the Patriarchate of Alexandria is the second most honored in the Orthodox world.
But we saw what a struggle was going on inside the Greek Orthodox Church, because the Moscow Patriarchate worked very hard. Delegations came, Metropolitan Hilarion (head of the External Church Relations Department of the ROC – ed) also visited them, persuaded, communicated. Each Bishop of the Greek Church received a whole thick folder of various articles, studies aimed against the Orthodox Church of Ukraine. Can you imagine how hard they worked on every Bishop.
Last comments
6 April 2020, 05:08

|
5 April 2020, 09:21

Можливо хоч випадок інфікування ієрарха заставить "віруючих" серйозно ставляться до рекомендацій влади щодо збереження свого здоров'я та своїх близьких. А у поважних представників

|
4 April 2020, 15:26

Для вірних поважного віку ситуація не так уже й незвична. Вони пам'ятають, коли міліція, у формі і без, пильно слідкувала за участтю вірних у святкових богослужіннях. Вже не говорю про вірних

|
Most Popular Articles month
3 April 2020, 17:28 | Church-state relations | 4 April 2020, 15:26

Ukrainian government bans mass celebrations of Easter during the quarantine

31 March 2020, 16:52 | UOC (MP) | 1 April 2020, 06:10

UOC-MP arranges public kissing of relics in occupied Sevastopol

24 March 2020, 10:09 | Freedom of Conscience | 24 March 2020, 11:11

Russian media intimidate with fakes about the growth of the religious intolerance in Ukraine

5 April 2020, 13:07 | Religion and society | 6 April 2020, 05:08

Abbot of Kyiv-Pechersk Lavra found to have coronavirus, - Mass Media

10 March 2020, 09:55 | Orthodox world | 11 March 2020, 06:51

Recognition of the OCU's autocephaly is the key prerequisite for achieving the unity with the Orthodox World, - Patriarch Bartholomew