Metropolitan Onufriy imposes ban on UOC MP priests to concelebrate with Metropolitan Volodymyr's former spokesman
29 January 2019, 11:41
|
Inter-Orthodox relations
|
0
|
|
Code for Blog
|
|
The UOC-Moscow Patriarchate has imposed a ban on the former spokesman of the UOC-MP and former press secretary to His Beatitude Volodymyr (Sabodan) Fr George Kovalenko. The priest announced it on his Facebook page.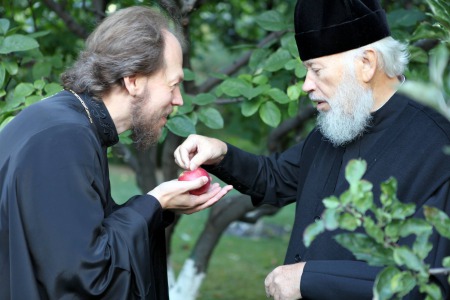 "At last ... I was somewhat ashamed not to get such a "reward" which the Moscow Patriarchate usually confers on those who seek independence and unity of Ukrainian Orthodoxy. It is foreseable, albeit a little sad, because the fantastic hope for the possibility of constructive dialogue and co-ordination between the clergy of the two Orthodox jurisdictions has vanished in thin air," he said.
The clergyman said he was contacted by the Kyiv Metropolis of the Moscow Patriarchate in Ukraine and told that -- by Metropolitan Onufriy's decree -- he was suspended in service. Fr George was also invited to come to the Metropolis office and collect this decree for himself. They refused to send a document by mail.
"I keep thinking over whether I need this paper that is not recognized by the Ecumenical Orthodoxy and the Orthodox Church of Ukraine, but is recognized only by the Moscow Church and is not a ban on me, but a ban on the clergymen of the MP to concelebrate with me?
And this is, literally, the second day after I publicly called the hierarchs of the Moscow Patriarchate in Ukraine not to prohibit the priests of the UOC to concelebrate with the priests of the Orthodox Church of Ukraine," he said.
The former press secretary to Metropolitan Volodymyr (Sabodan) has also thanked the Ukrainian Orthodox Church, its bishops and priests whom he has known for many years, for co-ordination and the opportunity to jointly implement various educational projects.
"I believe that no decrees or prohibitions may ever separate us from the love of God but also to break our unity in Christ if we believe Him, but not these persons ..." emphasized the clergyman.
Last comments
15 October 2019, 22:45

|
15 October 2019, 13:47

Те що відбувається з ПЦУ після отримання Томосу про автокефалію назвати "розвитком" важко. Швидше то були намагання створити (а в кого протидіяти створенню) автокефального Київського

|
12 October 2019, 18:30

Ну що ж: та штучна ізоляція (невизнання) ПЦУ у світовому православ'ї, що її цинічно й зухвало інспірував, тиснув і нагнітав (відповідні страшилки-жахалки) МП, по суті, подолана. Принаймні, успішний

|
12 October 2019, 15:08

Слава Богу ! Це дійсно вияв мужності предстоятеля та єпископату Елладської церкви. Пам'ятаймо про це.

|
Most Popular Articles month
17 September 2019, 09:57 | Interchurch relations | 17 September 2019, 23:15

Patriarch Sviatoslav of UGCC meets with Ecumenical Patriarch Bartholomew in Rome

25 September 2019, 14:56 | Orthodox world | 28 September 2019, 15:45

Odious Metropolitan of UOC-MP threatens with "Pan-Orthodox Apocalypse" if UOC obtains recognition of local churches

7 October 2019, 10:57 | Sacral art | 8 October 2019, 15:00

Most of the sacred shrines of Prince-governed Rus-Ukraine were exported to Russia - scientists

10 October 2019, 14:46 | Orthodox world | 11 October 2019, 17:03

Scary books about Tomos distributed by OCU-MP in Athens, where the Council on Recognition of the OCU convened

18 September 2019, 10:20 | Orthodox Church of Ukraine | 20 September 2019, 16:38