Process gains momentum: 20 communities in Vinnytsia region joined OCU
26 December 2018, 13:20
|
Inter-Orthodox relations
|
1
|
|
Code for Blog
|
|
Over 20 parishes of the Ukrainian Orthodox Church-Moscow Patriarchate have agreed to move to the jurisdiction of the Orthodox Church of Ukraine in Vinnytsia region.
Ukrinform correspondent was told this by Vladislav Demchenko, Head of the press service of the Vinnytsia diocese of Ukrainian Orthodox Church.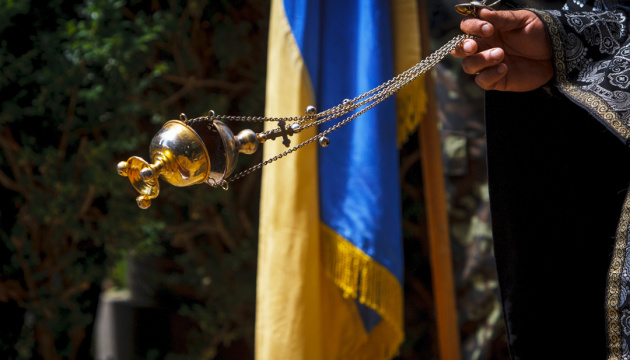 "The process of transition of parishes from the jurisdiction of the UOC-MP to the Orthodox Church of Ukraine is gaining momentum. At present, we can say that such church communities are more than twenty. A part of them has already legally arranged their transfer, the rest are still in the process. But every day we receive calls and give advice," said Demchenko.
According to him, only in the past weekend, five parishes moved to the OCU.
In particular, in the city of Vinnytsia, the Orthodox Church of Ukraine was joined by the parish of the Holy Trinity Church, located in the former command bunker of the Soviet Army, in granite rocks on the shore of the Pivdenyy Buh. The community of the church was almost fully supported by its rector, Archpriest Oleksii Volkov, a prominent missionary in Vinnytsia, as well as a volunteer chaplain, who became the first priest of Vinnytsia in 2014 to travel regularly to the east to support the Ukrainian Army.
The community of the largest and oldest 120-year-old church of Vinnytsia region – that of the Icon of the Mother of God "Joy of All Who Sorrow", which is located in the main building of the regional psychoneurology clinic of Vinnytsia, joined the OCU.
Parishes across the region are also making deliberations on the transition to the jurisdiction of the OCU. Thus, on December 23, the community of the Church of the Nativity of the Blessed Virgin Mary in Makhnivka, Kozyatynsky district, as well as parishioners from the villages of Salnik and Hushchintsi of Kalinovsky district made a choice in favor of the Orthodox Church of Ukraine.
As of December 21, four parishes moved to the OCU in Vinnytsia region.
Most Popular Articles month
29 May 2019, 17:03 | Ecumenical Patriarchate | 4 June 2019, 05:50

Patriarch Bartholomew: creation of Local Church is important aspect in making of new Ukrainian state

23 May 2019, 11:57 | Faith and weapon | 29 May 2019, 12:02

24 May 2019, 15:03 | Orthodox Church of Ukraine | 25 May 2019, 17:49

OCU Synod was unanimous in its decisions, save for Filaret

10 June 2019, 10:06 | UOC KP | 10 June 2019, 21:17

Patriarch Emeritus Filaret convenes "For Kyiv Patriarchate" forum

22 May 2019, 12:50 | Orthodox Church of Ukraine | | 22 May 2019, 15:34

Majority of Orthodox Ukrainians support creation of OCU and call themselves its faithful, survey shows