Patriarch Filaret: all issues raised by Metropolitan Makariy will be solved at the Unification Council
25 October 2018, 13:20
|
Inter-Orthodox relations
|
0
|
|
Code for Blog
|
|
The head of the Ukrainian Orthodox Church-Kyiv Patriarchate, Patriarch Filaret, believes that all controversial issues of association in the Ukrainian Orthodox Church should be resolved openly at the Council of Bishops.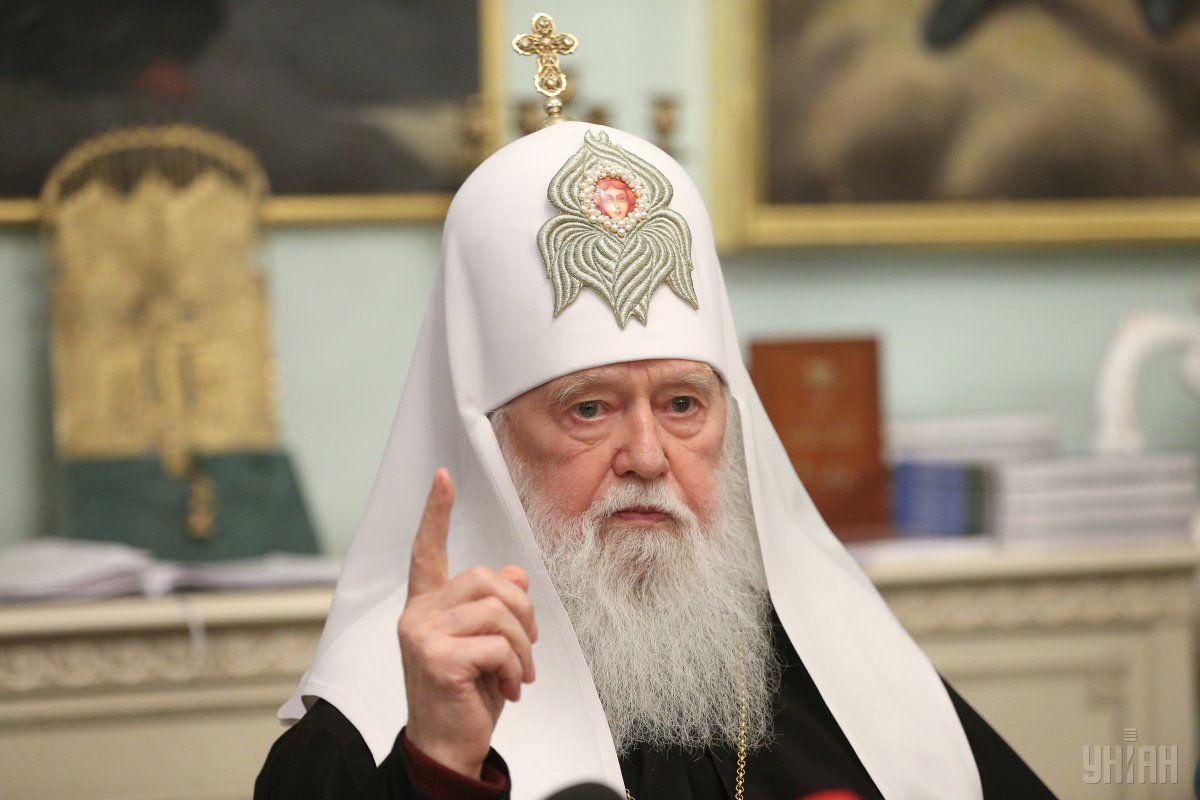 He said this in an interview with Ukrainian Radio, "Ukrayinska Pravda" reports.
"To receive the Tomos, we need to hold the Council of Bishops with participation of those hierarchs who appealed to the Ecumenical Patriarch for the Autocephaly, and at this Council [it is necessary] to elect the Primate of this already united Ukrainian Orthodox Church," said Patriarch Filaret.
Commenting on the words of Metropolitan Makariy of the Ukrainian Autocephalous Orthodox Church on the differences between the Churches regarding the statute and the name of the one local Church, he replied:
"All these questions raised by Metropolitan Makariy, all of them will be resolved at the Council of Bishops, not before the Council, but in the course of the Council."
"There will be unification, a Primate will be also elected, the charter will be adopted, and all this will be developing openly, with the participation of all the bishops of the Kyiv Patriarchate, the Moscow Patriarchate and of the Autocephalous Church," said Patriarch Filaret.
According to him, it is expected there will be 40 hierarchs of the UOC-KP, 14 hierarchs of the UAOC, and it is unknown how many hierarchs from the Moscow Patriarchate are to attend: only 10 or the majority of them.
The Primate does think the Council is being delayed, but could not tell the date, "I think that the Council is being prepared, because the Ecumenical Patriarch's representative is to attend the Council. If it depended only on us, on the Ukrainian side, we could tell its date. And since it depends on the Ecumenical Patriarch, we cannot tell exactly."
"We heard there is no specific date, maybe in November," said the Patriarch of the UOC-KP.
"We know one thing: the Ecumenical Patriarch is strongly committed to granting autocephaly to the Ukrainian Church," he said.
Patrairch Filaret could not answer either who could compete with him, but said he would like to lead the unified UOC himself to confront the Russian Orthodox Church.
According to him, the head of the Church should have a theological background, know the ecclesial canons, have experience in managing the church, and be a metropolitan. Therefore, the UOC-KP expanded the title of Filaret to "Archbishop and Metropolitan of Kyiv and All Rus-Ukraine".
Most Popular Articles month