ROC to sever relations with Patriarchate of Jerusalem, if Filaret's adherents are allowed to worship in the Holy Land
19 October 2018, 10:50
|
Inter-Orthodox relations
|
0
|
|
Code for Blog
|
|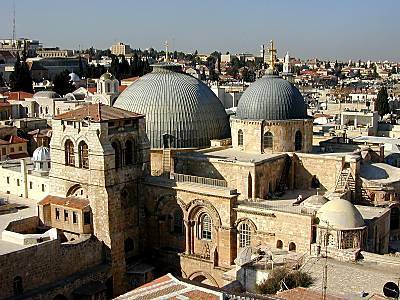 The Russian Orthodox Church may suspend services in the Church of the Holy Sepulcher if the Patriarchate of Jerusalem supports Constantinople in its decision to grant autocephaly to the Ukrainian Orthodox Church.
This was stated by the secretary of the Russian spiritual mission in Jerusalem, Abbot Nikon, said Ukrayinska Pravda citing RIA Novosti.
"If Jerusalem Patriarchate take the side of the Patriarchate of Constantinople and, consequently, Filaret's adherents serve at the Holy Sepulcher and other churches in the Holy Land, then we have to stop concelebrating with them," he said.
"In fact, the scandal will continue, and, most likely, I guess we will have to then stop communicating with the Patriarchate of Jerusalem because in that case they will be on the side of schismatics," added the official.
On October 11, the Synod of the Ecumenical Patriarchate confirmed its intention to give the autocephaly to the Ukrainian Church. It recognized the canonical patriarch of the Ukrainian Orthodox Church-Kyiv Patriarchate and the Primate of the Ukrainian Autocephalous Orthodox Church.
On October 15, the Synod of the Russian Orthodox Church found it impossible to further stay in the Eucharistic communion with the Constantinople Patriarchate.
Most Popular Articles month
14 August 2019, 19:40 | Temples, church property | 17 August 2019, 20:22

No denomination can have an exclusive right to serve in Saint Sophia in Kyiv, - the Нead of the UGCC

25 July 2019, 16:02 | Orthodox Church of Ukraine | 4 August 2019, 06:01

11 August 2019, 08:53 | Religious holidays and traditions | 13 August 2019, 22:34

9 August 2019, 11:07 | Inter-Orthodox relations | 11 August 2019, 22:25

According to the canons, OCU does not depend on Constantinople at all, -archimandrite Kyryl Hovorun

13 August 2019, 11:10 | Religion and policy | 14 August 2019, 20:49

To confront the OCU, Russia uses hierarchs connected with the soviet secret service