UGCC Patriarch met with William Taylor to discuss war and interfaith relations
2 October 2019, 11:19
|
Interchurch relations
|
0
|
|
Code for Blog
|
|
Patriarch Sviatoslav of the Ukrainian Greek Catholic Church held a working meeting with William Taylor, the Chargé d'Affaires of the United States in Ukraine. During the meeting, the parties discussed interfaith relations in Ukraine and the necessary conditions to maintain religious peace.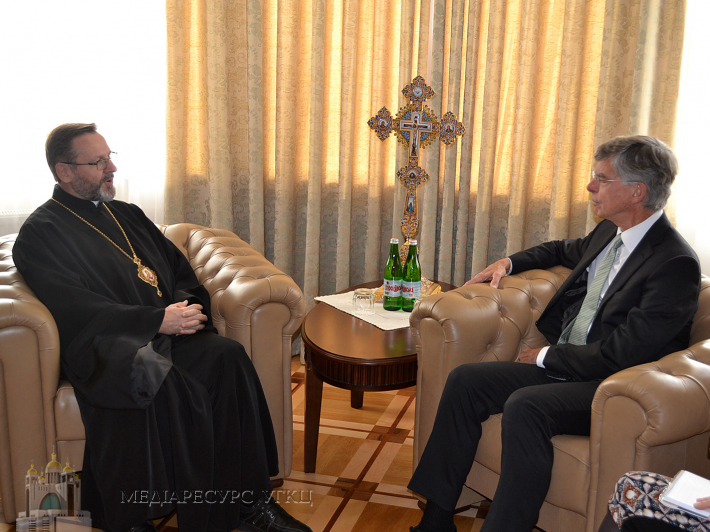 This is reported by the Information Department of the UGCC.
Patriarch Sviatoslav has stressed that the UGCC is open to dialogue with all faiths without getting involved in scandals and conflicts.
According to him, the dialogue between the churches is possible when both sides recognize each other as parties to such a dialogue and express mutual respect.
"Ecumenical dialogue situation is not so easy in Ukraine today. There is no official Ecumenical dialogue. Although for our part, we are open to communication with all those who are ready at least for bilateral communication," said His Beatitude Sviatoslav.
"Unfortunately, in recent years, no attempt to meet with Metropolitan Onufriy has been a success," he added.
The parties discussed the war in Donbas. It was about how and in what way this war can be prevented or stopped. And how wounds to be healed in the future.
"For our part, we stated that there is no military solution to this war. But on the other hand, it is impossible to achieve true peace if not all parties respect the territorial integrity of Ukraine and do not respect our country as a subject of international law," the Patriarch stressed.
His Beatitude Sviatoslav thanked US representative William Taylor for the fact that his country was trying to assert the principles of international law so that the 'power of law' was more effective than the 'right of the powerful' in the modern world.
At the end of the meeting, the head of the UGCC presented his counterpart with a presentation edition of the book about the UGCC and a book "Persecuted for Truth".
"The first book shows the face of our Church today in Ukraine and in the whole world. And the second deals with the persecution of the Church in Soviet times," said Patriarch Sviatoslav (Shevchuk).
Most Popular Articles month