Patriarch Sviatoslav of UGCC meets with Ecumenical Patriarch Bartholomew in Rome
17 September 2019, 09:57
|
Interchurch relations
|
8
|
|
Code for Blog
|
|
On September 16, Patriarch Sviatoslav of the UGCC met with Ecumenical Patriarch Bartholomew at the Vatican. The meeting took place in the house of Santa Marta, where his Holiness Francis lives, the Secretariat of the Head of the UGCC in Rome reports.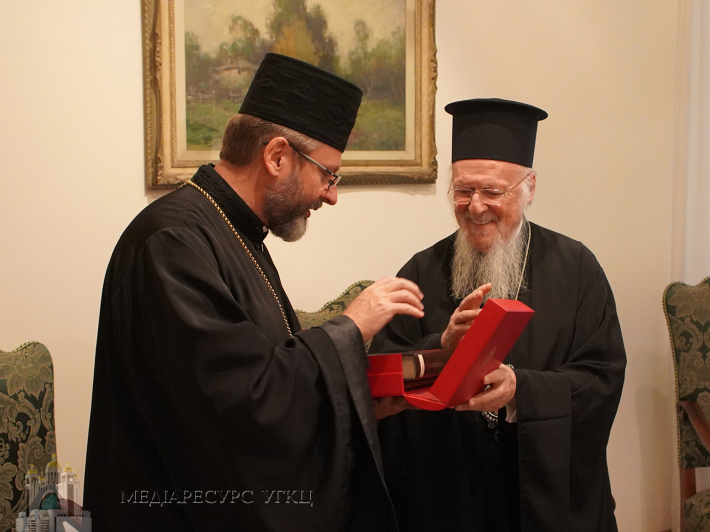 The Ecumenical Patriarch came to the Vatican on an official visit. The next day he met with Patriarch Sviatoslav to discuss the situation in Ukraine and Ecumenical relations between the UGCC and the OCU.
The meeting began with an exchange of gifts: the head of the UGCC presented the Patriarch with a facsimile edition of the Galician gospel of 1144 — the oldest of the precisely dated handwritten Gospels in Slavonic. Patriarch Bartholomew, in turn, presented his Beatitude Sviatoslav with publications on the cell of the Patriarchate of Constantinople and a historical stamp issued in honor of the visit of his Holiness Benedict XVI to Constantinople in 2006.
During the conversation with His Holiness Patriarch Bartholomew, Patriarch Sviatoslav expressed hope and wish that "with the acquisition of autocephaly that the Ecumenical dialogue with the Orthodox Church of Ukraine will rise to a qualitatively new level. It was from this historic moment of the proclamation of autocephaly for the OCU, that the main interlocutor of the UGCC in the Ecumenical dialogue was no longer the Russian Orthodox Church but the local Orthodox Church in Ukraine."
His Beatitude Sviatoslav, summing up the meeting of the Eastern Catholic hierarchs of Europe, which took place on September 12-14 in Rome, noted: "The Eastern Catholic Churches make their theological contribution to the tradition of the Catholic Church itself, helping it to fully express its ecumenical dimension. The catholicity of the Church cannot be limited to its Latin tradition alone."
As for the Ecumenical dialogue with the Orthodox Church, "The Eastern Catholic Churches offer new elements in understanding the primacy of the Bishop of Rome and synodality." At the same time, His Beatitude Sviatoslav noted during his conversation with Patriarch Bartholomew, "The Eastern Catholic Churches offer the Roman Catholic Church new forms of St Peter's Ministry."
The head of the UGCC also proposed Patriarch Bartholomew to set up a mixed Commission between the Orthodox Church and the Eastern Catholic Churches to "give a new impetus to the Ecumenical dialogue."
The Patriarch of Constantinople explained to His Beatitude Sviatoslav his steps regarding the provision of autocephaly to the Orthodox Church of Ukraine and praised the openness of the UGCC in Ecumenical communication. "This is our second meeting," he recalled and said that he was glad that the children of the Church of Kyiv remember that their mother Church is the Church of ancient Constantinople.
It should be added that the meeting was held on the initiative of the Primate of the UGCC as part of His Holiness Patriarch Bartholomew's official visit to the Vatican, organized by the Pontifical Council for the unity of Christians.
Most Popular Articles month