Primates of UGCC and OCU advocate for deepening cooperation between Churches
18 January 2019, 15:04
|
Interchurch relations
|
1
|
|
Code for Blog
|
|
The Primate of the Ukrainian Greek Catholic Church, Patriarch Svyatoslav, is confident that a new opportunity for the dialogue between the UGCC and the Orthodox Church of Ukraine has emerged. He also thinks unification with the Orthodox Church of Ukraine is possible.
This was stated by the Head of the UGCC on January 17 during the presentation of his book Dialogue Heals Wounds, reports the Department of Information of the UGCC.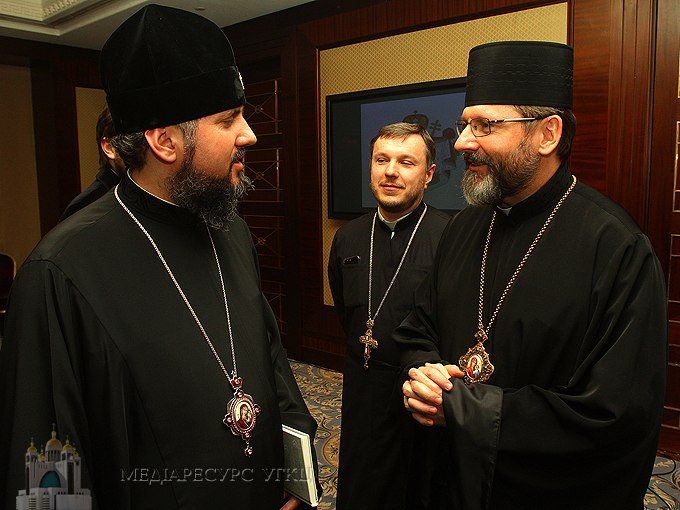 "We are not talking about the unification of the Churches into a single entity, as it was the case at the Unification Council of Ukrainian Orthodoxy. We are talking about unification in the name of common good, heritage, the one independent united European state," said Patriarch Sviatoslav.
The Head of the UGCC noted that for this purpose it is necessary to develop together a road map and outline concrete steps.
"I think that it is in Ukraine that an interesting perspective for ecumenical dialogue in the context of new opportunities emerges. Today, an intense dialogue in the form of the Mixed Orthodox-Catholic Theological Commission is evolving between the Catholic and Orthodox Churches. Our Church is already a member of this Commission," the Primate emphasized, expressing hope that the Orthodox Church of Ukraine will also join this dialogue, which was initiated by the Ecumenical Patriarch from the Orthodox side.
"Together, we have the opportunity to show to universal Christianity that ecumenical dialogue between the UGCC and the OCU is possible. At the moment, it is absent in Ukraine. Only personal meetings, communication in different formats are conducted. Therefore, launching it is a challenge and, perhaps, the first step in our roadmap," the Primate stressed.
In turn, Metropolitan Epifaniy, who attended the book presentation, called for a deepening of cooperation with the UGCC.
"We are making our first steps of cooperation, although previously we also had collaborated. In the future, we will also continue our dialogue, cooperation, we Christians, must work together to do good. We want to start a fruitful cooperation between the Orthodox and the Ukrainian Greek-Catholic Church that existed before, but we want to deepen it in order to work together in the future," said the Primate of the OCU.
He invited the Head of the UGCC to the ceremony of his enthronement which is scheduled for February 3.
Most Popular Articles month
1 May 2020, 10:05 | UOC (MP) | 2 May 2020, 13:10

Survey launched among Bukovyna believers on readiness to rally against the Lavra seizure from UOC-MP

12 May 2020, 12:12 | AUCCRO, inter-confessional councils | 13 May 2020, 19:26

AUCCRO suggests the government ease quarantine restrictions for religious organizations

23 May 2020, 09:35 | Church-state relations | 23 May 2020, 15:23

Zelensky responded to the petition for withdrawing Kyiv-Pecherck Lavra from UOC-MP

12 May 2020, 10:23 | Orthodox Church of Ukraine | 13 May 2020, 10:44

Hellenic Republic Council of State rejects the demand of pro-Moscow organizations to cancel the recognition of the Autocephalous Church of Ukraine by Greek Church

25 May 2020, 12:34 | Land and property problems | 26 May 2020, 16:31

Experts comment on Zelensky's refusal to withdraw Lavra from UOC-MP