In Ukraine, there are 6 times more marriages than divorces, – Ministry of Justice
6 February 2020, 08:27
|
Religion and society
|
0
|
|
Code for Blog
|
|
The Ministry of Justice has announced joyful data on the new marriages and divorces in Ukraine. This is reported on the Facebook page of the Ministry of Justice of Ukraine.
"There are 6 times more marriages than divorces. This is the official statistics for the year 2019", goes the message.
Overall, 237,858 marriages and 38427 divorces were registered in Ukraine.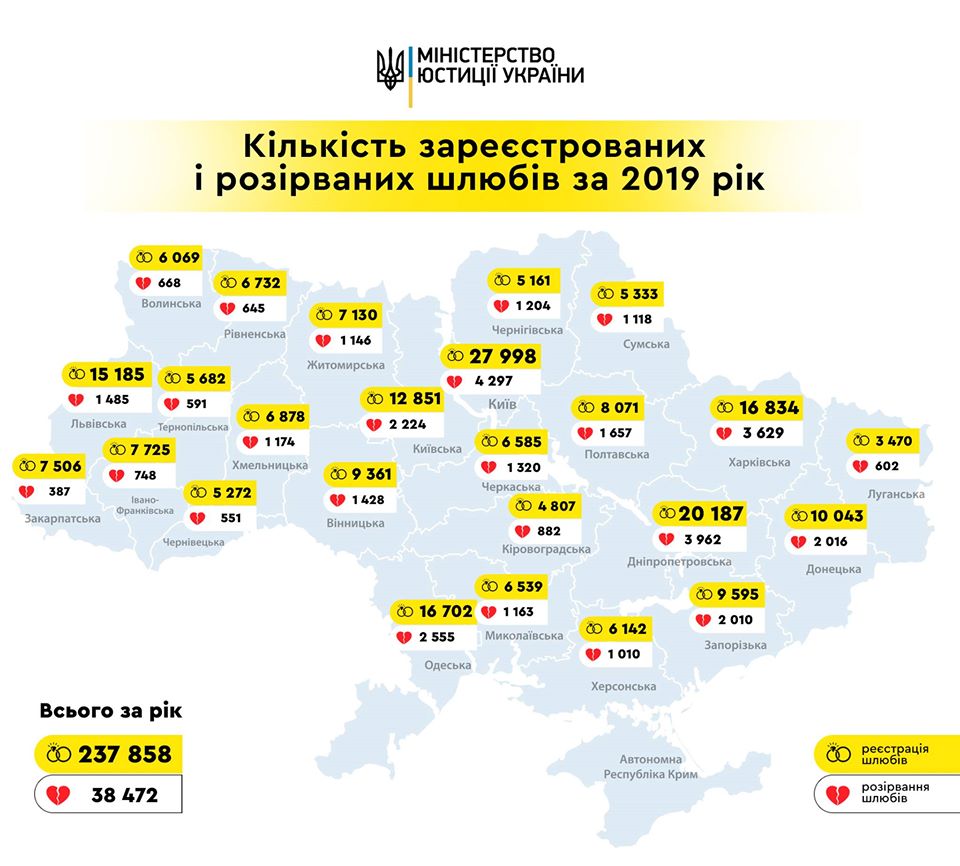 According to the Ministry of Justice, 27,998 marriages and 4,297 divorces took place in Kyiv.
Most Popular Articles month
1 May 2020, 10:05 | UOC (MP) | 2 May 2020, 13:10

Survey launched among Bukovyna believers on readiness to rally against the Lavra seizure from UOC-MP

28 May 2020, 16:06 | Scandals, crime | 30 May 2020, 07:10

Icons, books and other valuables are being taken from Kyiv-Pechersk Lavra to Moscow

12 May 2020, 12:12 | AUCCRO, inter-confessional councils | 13 May 2020, 19:26

AUCCRO suggests the government ease quarantine restrictions for religious organizations

29 May 2020, 11:37 | Religion and society | 30 May 2020, 07:04

Journalists calculated millions that Moscow Patriarchate earns monthly in Ukraine

23 May 2020, 09:35 | Church-state relations | 23 May 2020, 15:23

Zelensky responded to the petition for withdrawing Kyiv-Pecherck Lavra from UOC-MP