Greek Catholic nun in Ternopil Region adopts nine children
23 September 2019, 14:23
|
Religion and society
|
0
|
|
Code for Blog
|
|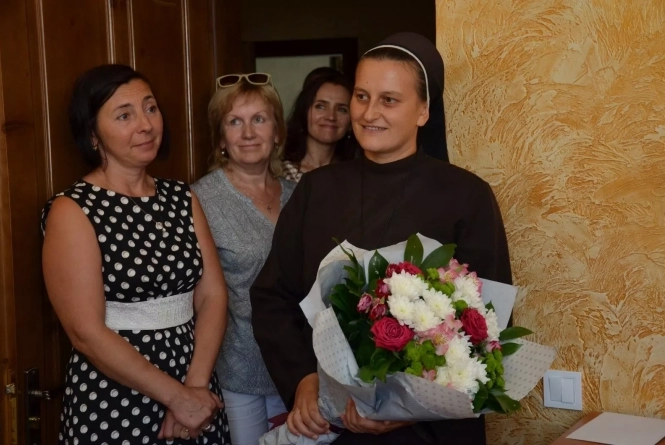 The first family-type orphanage was created in Chortkiv in early September. Now it is home to nine children, who were adopted by a nun, Sister Josaphata. The mother of a large family told the readers of "20 Minutes" how to raise children in a large family and what prompted her to such a decision.
"It's not because I decided so, it was the Lord who decided," says Sister Josaphata. "I followed His call. You see, the word 'monk' is derived from the word 'one" but it was God's will that I did not remain alone.
In 2012, Sister Josaphata decided to help a family in crisis.
"A mother of three children fell seriously ill," the sister continues. "The children were taken from the family, and I was preparing them for the first communion. They called me, asked me to help, to take them home. I promised them I would."
Initially, the foster children were three, then the sister adopted two more children, from whom the mother refused. Sister Josaphata lived together with five children for several years in Diocesan administration close to Bishop Dymytr (Hryhorak) of Buchach of the Ukrainian Greek Catholic Church. According to the sister, the room was absolutely unsuitable for children. Therefore, later a spacious house was bought for the family at the diocesan cost.
"The eldest daughter is 19. She is already a student, studying in Ternopil. She comes home for the weekend and helps us with the housework," says Sister Josaphata. "The three elder children don't live with us anymore. They come for the weekend.
Sister Josaphata comes from Lutsk, she came to Ternopil Region at the invitation of Bishop Dmytro together with other sisters.
"I joined a convent when I was 15," the nun says. "I have a catechetical education and was trained as a social worker. I was always drawn to children. And God so granted that I have been beside them for my entire life. The sister admits that it can be difficult with children, but when there is mutual understanding in the family, life in prayer and the desire to communicate, any difficulties can be overcome."
Sister Josaphat says the Church is very supportive of the family. State aid is enough only if the children are not sick.
"The state allocates two subsistence minimums per month for one child," says the nun. "Almost every child has serious health problems, so it can be difficult. But when family-friendly, everything is within one's power."
Most Popular Articles month
1 May 2020, 10:05 | UOC (MP) | 2 May 2020, 13:10

Survey launched among Bukovyna believers on readiness to rally against the Lavra seizure from UOC-MP

12 May 2020, 12:12 | AUCCRO, inter-confessional councils | 13 May 2020, 19:26

AUCCRO suggests the government ease quarantine restrictions for religious organizations

12 May 2020, 10:23 | Orthodox Church of Ukraine | 13 May 2020, 10:44

Hellenic Republic Council of State rejects the demand of pro-Moscow organizations to cancel the recognition of the Autocephalous Church of Ukraine by Greek Church

23 May 2020, 23:18 | Islam | 24 May 2020, 08:32

27 April 2020, 13:30 | Religion and society | 27 April 2020, 20:40

20 more seminarians of Kyiv-Pechersk Lavra contracted coronavirus