Patriarch Sviatoslav: there is great interest in UGCC in Central and Eastern Ukraine
7 February 2019, 11:48
|
Religion and society
|
1
|
|
Code for Blog
|
|
In the Central and Eastern Ukraine, a positive outbreak of activity of the Ukrainian Greek Catholic Church can be observed. There is a special interest in our Church. However, we lack priests to answer these people's needs.
The Head of the UGCC, Patriarch Svyatoslav, said it in an interview with the Polish Catholic Information Agency, according to the Department of Information of the UGCC.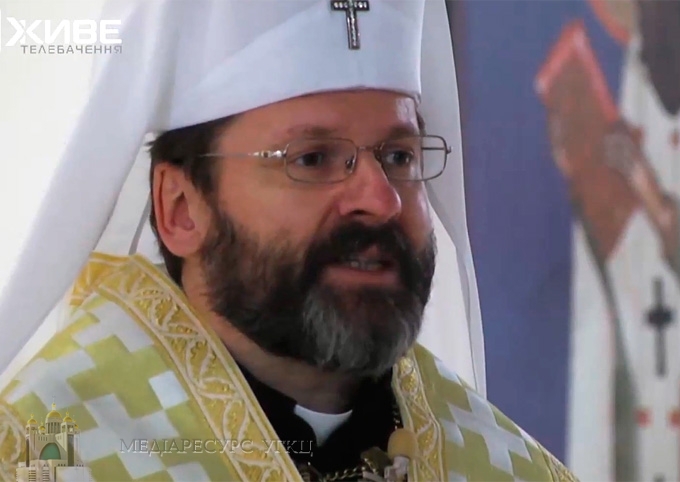 The Primate has noted that the UGCC is undergoing a rapid development as an institution, and the needs faced by the Church outweigh its potential. As an example, the Head of the Church has referred to a situation with the UGCC in Kramatorsk, in the front-line area. Kramatorsk was occupied by Russians, and later it was liberated by the Ukrainian army. Recently, the local priest of the UGCC at a meeting with non-governmental organizations was asked when the UGCC would run a Catholic school there.
"He was absolutely surprised, since he had never dealt with education and came to me for advice. I was also surprised because for many years I have worked on the opening of a Catholic school in Kyiv. And it's not that simple. Meanwhile, in Kramatorsk, people require a Catholic school. Most people do not identify themselves with the Catholic Church, but they need a Catholic school. They want a different upbringing for their children. For them, it is a hope that eventually something will change. Now I have a problem what to do with this. Of course, we must respond positively, but pragmatically. How to educate Catholic teachers in Kramatorsk so that they can implement the model of the Catholic school? From where shall we get this money?" told the Patriarch of the UGCC.
"These are examples," noted His Beatitude Sviatoslav, "to what extent the Greek Catholic Church is attractive to ordinary people and what their expectations are. We see that the testimony we have given there, demonstrating solidarity and social assistance, is very important for this region. And this opens up new challenges for us. We already lack priests, despite the high level of vocations," added the Primate.
Speaking about the lack of priests, the Head of the UGCC noted that, in particular, in the Kyiv Archeparchy, which includes five oblasts, there is an urgent need of 50 priests.
"Thus, we see here a positive outbreak of activity of our Church and the growing interest thereto. This is especially the case in Central and Eastern Ukraine, because in Halychyna the Greek-Catholic Church has long proven itself well," said the Primate.
According to him, the patriarchal curia of the UGCC in Kyiv also needs development. The demand for the presence of the UGCC is so great in various sectors of public life: at the level of social and charitable service, education and upbringing, relations with the state and other churches, which needs response, as this creates a situation in which Curia must develop rapidly in order to realize these assignments.
Last comments
15 October 2019, 22:45

|
15 October 2019, 13:47

Те що відбувається з ПЦУ після отримання Томосу про автокефалію назвати "розвитком" важко. Швидше то були намагання створити (а в кого протидіяти створенню) автокефального Київського

|
12 October 2019, 18:30

Ну що ж: та штучна ізоляція (невизнання) ПЦУ у світовому православ'ї, що її цинічно й зухвало інспірував, тиснув і нагнітав (відповідні страшилки-жахалки) МП, по суті, подолана. Принаймні, успішний

|
12 October 2019, 15:08

Слава Богу ! Це дійсно вияв мужності предстоятеля та єпископату Елладської церкви. Пам'ятаймо про це.

|
Most Popular Articles month
17 September 2019, 09:57 | Interchurch relations | 17 September 2019, 23:15

Patriarch Sviatoslav of UGCC meets with Ecumenical Patriarch Bartholomew in Rome

25 September 2019, 14:56 | Orthodox world | 28 September 2019, 15:45

Odious Metropolitan of UOC-MP threatens with "Pan-Orthodox Apocalypse" if UOC obtains recognition of local churches

10 October 2019, 14:46 | Orthodox world | 11 October 2019, 17:03

Scary books about Tomos distributed by OCU-MP in Athens, where the Council on Recognition of the OCU convened

18 September 2019, 10:20 | Orthodox Church of Ukraine | 20 September 2019, 16:38

7 October 2019, 10:57 | Sacral art | 8 October 2019, 15:00

Most of the sacred shrines of Prince-governed Rus-Ukraine were exported to Russia - scientists