UCU students sang carols under the windows of the detention center where Yulia Kuzmenko and Andriy Antonenko are being held
17 January 2020, 11:47
|
Religion and policy
|
|
0
|
|
Code for Blog
|
|
On the evening of January 16, in Kyiv, the students of the Ukrainian Catholic University staged a Nativity creche under the pre-trial detention center, where the suspects in the murder of Sheremet are located.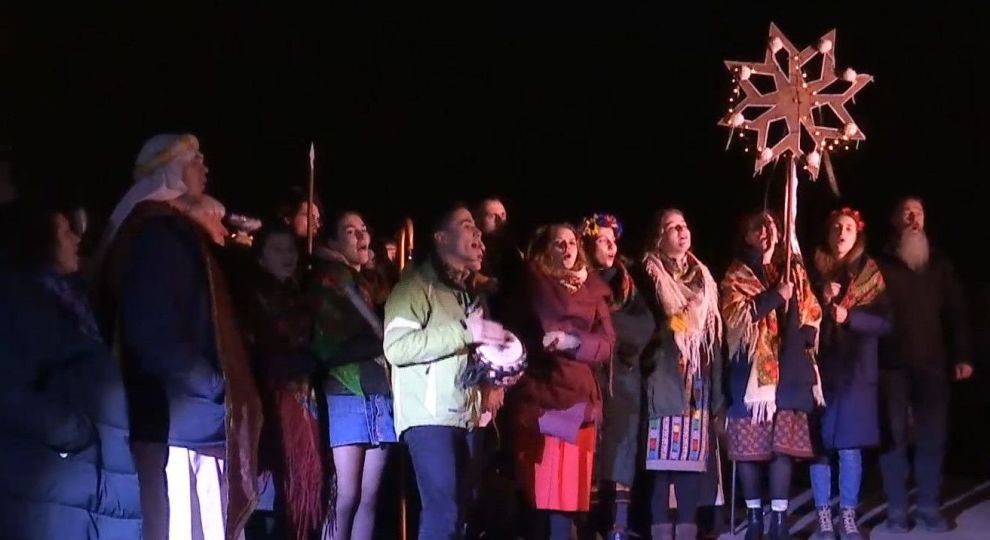 This was reported by TSN.
Cardiosurgeon and volunteer Yulia Kuzmenko and military and musician Andriy Antonenko have been held there already for a month. In December, they, as well as military medical Yana Duhar, were detained in the case of the murder of Pavlo Sheremet. At a press conference, the police called them suspects in the organization and execution of the bombing of the journalist's car. Despite numerous arguments from lawyers and witnesses that the detainees were not involved in the crime, Yana Duhar was placed under house arrest during the investigation, Antonenko and Kuzmenko were placed in isolation. Students who the day before on the porch of the institution arranged a Nativity creche say that their action wanted to support the suspects.
According to the participants of the Nativity creche, the criminal case against suspects in the murder is ill-disguised.
On December 12, 2019, at a press conference held in the presence of Volodymyr Zelensky, the Minister of Internal Affairs of Ukraine Arsen Avakov announced the detention of suspects involved in the murder of Sheremet.
Investigators believe that the explosives under Sheremet's cars were placed by Kuzmenko and Antonenko, the latter was also called the organizer of the criminal group. Duhar allegedly managed the"intelligence" part of it: looking for cameras in the way of accomplices.
Last comments
4 June 2020, 13:46

|
4 June 2020, 13:39

За часів союза, УПЦ підлягала моіковському патріярхату, примусово. Від незалежності УПЦ старалась отримати незалежність від Москви. Тепер, коли Україна має ТОМОС та незалежність то Лавру потрібно

|
2 June 2020, 15:54

Последние события показали глубокий кризис РПЦ МП, где только отдельные редкие священнослужители твёрдо исповедуют Православную Веру, как схиигумен отец Сергий Романов, которого сейчас травят

|
Most Popular Articles month
28 May 2020, 16:06 | Scandals, crime | 30 May 2020, 07:10

Icons, books and other valuables are being taken from Kyiv-Pechersk Lavra to Moscow

12 May 2020, 12:12 | AUCCRO, inter-confessional councils | 13 May 2020, 19:26

AUCCRO suggests the government ease quarantine restrictions for religious organizations

29 May 2020, 11:37 | Religion and society | 30 May 2020, 07:04

Journalists calculated millions that Moscow Patriarchate earns monthly in Ukraine

23 May 2020, 09:35 | Church-state relations | 23 May 2020, 15:23

Zelensky responded to the petition for withdrawing Kyiv-Pecherck Lavra from UOC-MP

12 May 2020, 10:23 | Orthodox Church of Ukraine | 13 May 2020, 10:44

Hellenic Republic Council of State rejects the demand of pro-Moscow organizations to cancel the recognition of the Autocephalous Church of Ukraine by Greek Church