UOC-MP Metropolitan's residence rally participants in Dnipropetrovsk region: "We need our Church, not Putin's"
18 November 2018, 12:28
|
Protests and conflicts
|
1
|
|
Code for Blog
|
|
In Kryvyy Rih, Dnipropetrovsk region dozens of supporters of the autocephaly of the Ukrainian Church protest at the residence of the Ukrainian Orthodox Church-Moscow Patriarchate Metropolitan of Kryvyy Rih and Nikopol Efrem (Kitsaya).
In the diocese, this rally was called "storming".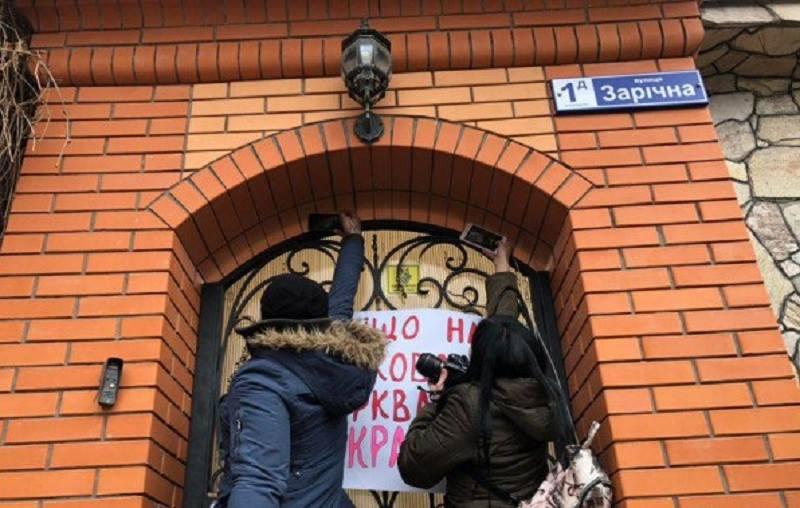 The activists intended to go inside and meet with the clerics. The doors were closed, As UNIAN reported, one of the participants of the protest allegedly tried to break the gate to the residence to get inside the territory.
They could not talk to them through the intercom. In thir hands, the activists, were holding posters saying, "We are for Tomos. Ephraim - are you with us? "," We need our Church, not Putin's"," Kryvyy Rih is Ukrainian Church "," Away from Moscow, return to Ukraine, Ephraim ".
Police arrived at the scene, however, they did not stop anyone.
As the activists left, they left their posters at the gate.
Most Popular Articles month
26 November 2019, 11:05 | Orthodox Church of Ukraine | 26 November 2019, 18:44

Petro Poroshenko urges international community to support the independence of OCU

17 November 2019, 10:00 | International relations | 19 November 2019, 07:46

In Lviv, Yad Vashem is requested to recognize Andrei Sheptytsky as Righteous Among the Nations

26 November 2019, 09:55 | UGCC | 26 November 2019, 11:33

UGCC Patriarch discusses Patriarchal Council in Lviv with the head of Lviv regional state administration

11 November 2019, 13:46 | Jurisprudence | 12 November 2019, 09:04

28 November 2019, 10:02 | Inter-Orthodox relations | 28 November 2019, 20:07