"Russian аuthorities in Crimea turned construction of The cathedral mosque in Simferopol into a political project," expert said
22 January 2020, 10:37
|
Freedom of Conscience
|
0
|
|
Code for Blog
|
|
The Pro-Russian TV channel "Millet", created by the Russian government for the Crimean Tatar audience, summing up the results of 2019, said that over the past year for the Muslims of the Crimea, the authorities of the annexed Peninsula have done a lot of useful things, Radio Liberty reports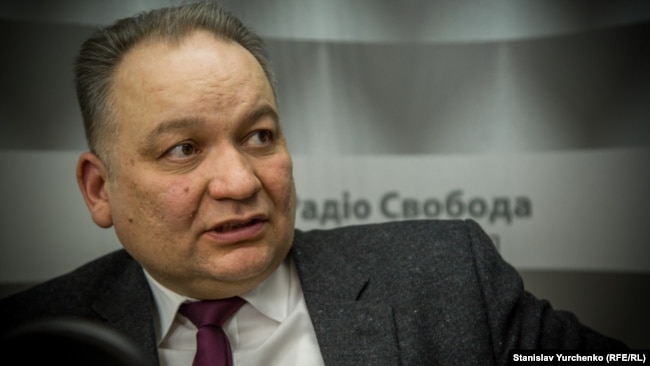 "2 new mosques, 3 minarets, almost 40 plots of land for the construction of religious buildings, 800 happy pilgrims who went on a spiritual journey of Hajj, and, of course, the final stage of the construction of the most long-awaited mosque ‒ Juma-Jami. And this is only in 12 months," reports the TV channel "Millet".
Member of the Mejlis of the Crimean Tatar people, Head of the Crimean Tatar Resource Center Eskender Bariev believes that the Russian government in Crimea turned the construction of the Cathedral mosque in Simferopol into a political project.
"Indeed, a Cathedral mosque is being actively built on the territory of the temporarily occupied Crimea. And I believe that the Cathedral mosque will be completed, perhaps as early as in 2020. But this is not a humanitarian and socio-cultural project, but an image and political project of Putin, such as the Kerch bridge, the Tavrida highway and the airport," the expert believes.
Bariev pointed out that last year there was an unprecedented number of arrests of Muslims in Crimea.
"We are witnessing the fact that the Crimean Tatars are being persecuted on religious grounds, accused of terrorism, "the courts" to take out sentences with maximum terms. And all this is being done against Muslims who have never committed a terrorist attack in their lives. The evidence of my words is 66 political prisoners in the so-called Hizb ut-Tahrir case. In 2019 alone, there were 35 new arrests, which was not the case in Ukrainian times. By the way, about the Ukrainian times: I want to remind you that even before the occupation of the Crimea, the issue of land allocation (for the construction of the mosque was resolved - Ed.), a project was developed according to which construction is being carried out, and it was planned to build with the support of Turkey," the expert said.
According to a member of the Mejlis, Crimean mosques are under the supervision of the Russian FSB, looking for "new victims" of repression in them.
Crimean Tatar activist Ismail Ramazanov notes that the "Millet" TV channel was created for Crimean Tatars, but it did not become "its own" for the Crimean Tatar people for its Pro-Russian propaganda bias.
Most of the Crimean political prisoners are Crimean Tatars or Muslims of other ethnic origins. they appear in a number of criminal cases, in particular in the cases of Hizb ut-Tahrir and Tablighi Jemaat (organizations are banned in Russia, but allowed in Ukraine; Russia also imposes its internal ban in the occupied Ukrainian Crimea). Human rights activists and lawyers qualify these criminal cases as religious persecution. The defendants in these criminal cases are devout Muslims.
Most Popular Articles month
3 March 2020, 12:03 | Inter-Orthodox relations | 4 March 2020, 17:51

Onufriy wants the Ecumenical Patriarch to revoke the OCU's Tomos

31 March 2020, 16:52 | UOC (MP) | 1 April 2020, 06:10

UOC-MP arranges public kissing of relics in occupied Sevastopol

24 March 2020, 10:09 | Freedom of Conscience | 24 March 2020, 11:11

Russian media intimidate with fakes about the growth of the religious intolerance in Ukraine

6 March 2020, 21:39 | Orthodox world | 10 March 2020, 11:12

10 March 2020, 09:55 | Orthodox world | 11 March 2020, 06:51

Recognition of the OCU's autocephaly is the key prerequisite for achieving the unity with the Orthodox World, - Patriarch Bartholomew