Governor of Kyiv-Pechersk Lavra was to coordinate provocations during Unification Council
13 December 2018, 13:16
|
Extraordinary situations
|
5
|
|
Code for Blog
|
|
The Security Service of Ukraine claims to have prevented provocations planned by Russia on the eve of and during the Unification Council, to be held in Kyiv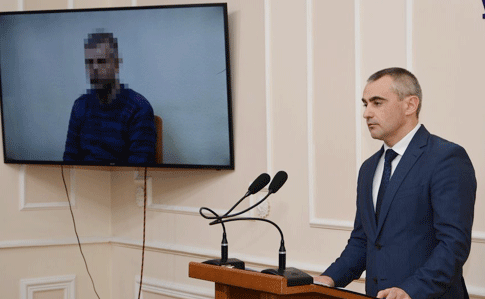 .
This was announced at a briefing in Kyiv on December 13, by deputy head of the SBU Victor Kononenko, according to Ukrayinska Pravda.
"The SBU documented intentions to organize provocations in the city of Kyiv and other regions of our country on the eve of and during the unification council and the creation of a Ukrainian Local Orthodox Church," Kononenko said.
According to intelligence services, the organizer of ordered protests was to become a resident of Kyiv, whom Russian intelligence services engaged in November 2018.
At the meeting in Moscow, the aforementioned Kyiv resident was issued $5,000 and detailed instructions in particular on coordinating the activities with a clergyman of the Kyiv-Pechersk Lavra.
"Further, it was established that the said person is actually the governor of the Kyiv-Pechersk Lavra, Metropolitan Pavlo," Kononenko said.
"For interaction he had to say the password "Alexander Ivanovich sent us," said Kononenko.
According to the SBU, provocations were to take place on the territory of the Kyiv-Pechersk Lavra on December 13-14, during the conduct of the religious service.
"The main version we are considering today is the commission of a crime against the persons planned to be involved in these actions, namely the commission of resonant illegal actions involving the death and wounds of ordinary citizens, by the additionally engaged persons," Kononenko noted.
"On the one hand, this should not be a confirmation of the previous horror stories about the persecution of the faithful of the UOC by radicals and the seizure of shrines, and on the other hand – it could jeopardize the unification council," he said.
The SBU also says they received additional information on December 6 about a meeting held under the chairmanship of the special services of the Russian Federation and the so-called "leadership" of the DNR in the former SBU building, which discussed the issue of providing the Tomos to Ukraine and organizing activities that could prevent this.
"According to the results of the meeting, it was decided to organize religious processions in Kyiv, Odesa, Kharkiv, Zaporizhia, Kherson and Mykolayiv on the day of the unification council, during which violent clashes with law enforcement agencies were to be provoked to create "bloody" images for the Russian media," said Kononenko.
Answering the journalists' questions, the SBU representative said that there were no detainees in the case at hand, "as no crime took place."
Claryfying if there are grounds for the detention of Metropolitan Pavlo, Kononenko said: "No. If there were any, he would be detained, but so far there are no grounds."
According to the representative of the SBU, now Pavlo cannot be served with a note of suspicion.
"But work in this regard is being carried out, Metropolitan Pavlo will certainly be questioned within the framework of this criminal proceeding," Kononenko said.
The special services spokesman called on the faithful not to fall prey to provocations.
Most Popular Articles month