UGCC Patriarch transfers medical equipment to Irpin Hospital of Armed Forces of Ukraine
19 February 2020, 12:37
|
Charity, social service
|
0
|
|
Code for Blog
|
|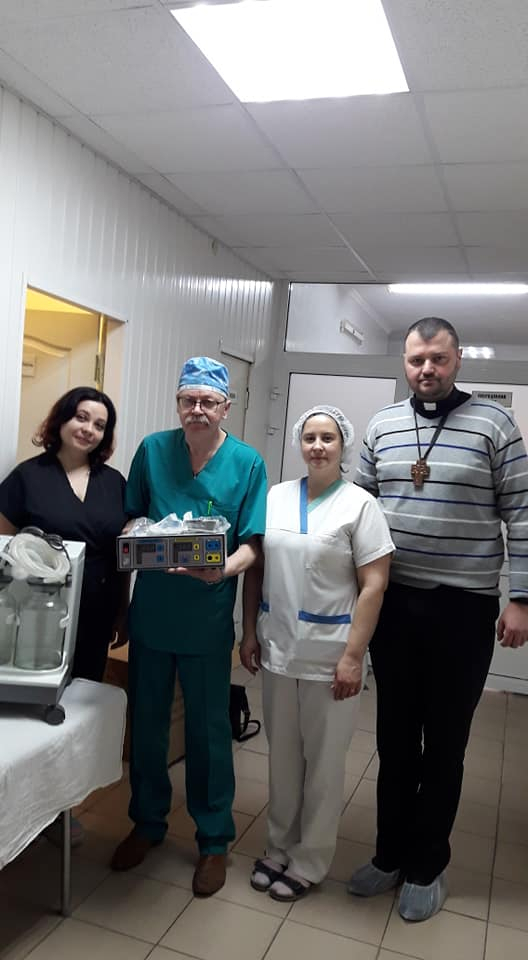 On February 18, Patriarch of the UGCC Svyatoslav Shevchuk transferred medical equipment to the surgery department of the Irpin hospital of the Armed Forces of Ukraine and provided financial assistance.
It is reported by the UGCC Information Department.
The assistance for the wounded military servicemen was delivered by Archpriest Vitaliy Voyets, a medical chaplain of the Kyiv Archdiocese. The priest noted that this time, in particular, the DKH-250M Diathermocoagulator and the 7A-23D surgical suction unit were transferred. Financial aid was also provided for the treatment of soldiers.
"The war continues, so we must be open to the needs of our defenders and doctors who deal with them! Let each of us do what we can for those indefatigable ones who hold the sky for us...!" said the priest.
The military medical chaplain also expressed words of gratitude for the support Onufry Gandziy, Volodymyr Voloshyn, pastors of the Greek Catholic community of Sts Volodymyr and Olha in Innsbruck (Austria), and Fr. Yuri Kolasa, the vicar for the faithful of the Eastern Catholic Churches in Austria.
On November 11, 2019, as part of the support of the Hospitals of AFU, His Beatitude Sviatoslav transferred medical equipment for the departments of the Central hospital of the Armed Forces of Ukraine in Kyiv.
Earlier, during an official visit to the Central Hospital of the Armed Forces of Ukraine, which took place on November 5, 2019, Patriarch Svyatoslav of the UGCC stressed when addressing the soldiers: "Ukrainians who live in a territory free from military aggression should understand that it is thanks to your wounds that they can live peacefully."
Last comments
6 April 2020, 05:08

|
5 April 2020, 09:21

Можливо хоч випадок інфікування ієрарха заставить "віруючих" серйозно ставляться до рекомендацій влади щодо збереження свого здоров'я та своїх близьких. А у поважних представників

|
4 April 2020, 15:26

Для вірних поважного віку ситуація не так уже й незвична. Вони пам'ятають, коли міліція, у формі і без, пильно слідкувала за участтю вірних у святкових богослужіннях. Вже не говорю про вірних

|
Most Popular Articles month
3 April 2020, 17:28 | Church-state relations | 4 April 2020, 15:26

Ukrainian government bans mass celebrations of Easter during the quarantine

31 March 2020, 16:52 | UOC (MP) | 1 April 2020, 06:10

UOC-MP arranges public kissing of relics in occupied Sevastopol

27 March 2020, 09:40 | Church-state relations | 27 March 2020, 11:15

The UGCC is ready to help in the fight against the coronavirus threat, His Beatitude Sviatoslav

24 March 2020, 10:09 | Freedom of Conscience | 24 March 2020, 11:11

Russian media intimidate with fakes about the growth of the religious intolerance in Ukraine

5 April 2020, 13:07 | Religion and society | 6 April 2020, 05:08

Abbot of Kyiv-Pechersk Lavra found to have coronavirus, - Mass Media