The Ukrainian Greek Catholic Church welcomes the meeting of President of Ukraine Volodymyr Zelensky with the Holy Father Pope Francis
5 February 2020, 21:11
|
Vatican
|
|
0
|
|
Code for Blog
|
|
The Ukrainian Greek Catholic Church welcomes the meeting of President of Ukraine Volodymyr Zelensky with the Holy Father Pope Francis, which is to take place on February 8, 2020 during the official visit of the President of Ukraine to Italy and the Vatican. This was stated by Father and Head of the UGCC, His Beatitude Sviatoslav, during the Open Church program, the UGCC Department for Information report.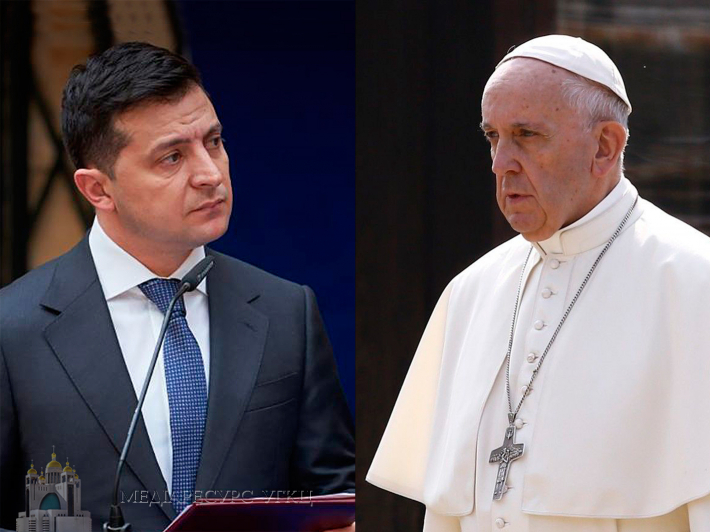 "We think that relations between the Holy See and Ukraine, in particular in the context of the war that Russia is waging against us, are very important. After all, the Holy See is not only an important religious center, but also the heart of world diplomacy," stressed the Primate.
"Therefore," said His Beatitude Sviatoslav, "when we say that there is no military solution to the armed conflict in the Donbas, then the alternative is always diplomacy, dialogue, and international relations."
According to the Archbishop, the visit of the President will definitely bring some new steps in the diplomatic field. "I hope they will be useful for Ukraine. We have repeatedly stated that Ukraine seriously needs to develop its policy, its strategy of relations with the Apostolic Capital," believes the Head of the UGCC.
He noted that there is no new ambassador of Ukraine to the Vatican so far. But the person to be appointed will implement Ukraine's policy towards the Roman Apostolic Capital.
The Head of the Church also expressed his expectations that during the conversation of Pope Francis with Volodymyr Zelensky they would discuss the life of the Greek Catholic and Roman Catholic Churches in Ukraine. "Because Catholics of Byzantine and Latin rites are a minority in Ukraine. And it is obvious that in a democratic country the rights of minorities should be secured," says His Beatitude Sviatoslav.
We would like to remind you that the President of Ukraine Volodymyr Zelensky will make official visits to Italy and the Vatican on February 7-8. During his visit to Italy, he is scheduled to meet with President Sergio Mattarella and Prime Minister Giuseppe Conte. On February 8, the President of Ukraine will meet with the Pope in the Vatican. The President of Ukraine will also meet with Secretary of State of the Holy See Cardinal Pietro Parolin with the participation of Secretary for interstate relations of the Holy See Paul Richard Gallagher.
Most Popular Articles month