Pope Benedict XVI to UGCC Patriarch: I pray every day for Ukraine
On February 26, the Pope Emeritus Benedict XVI received Patriarch Sviatoslav in his premises at the Mater Ecclesiae Monastery in the Vatican.
During the conversation with the Pontiff, the Head of the Ukrainian Greek Catholic Church reported on the situation in Ukraine and presented his Italian book Tell Me the Truth, the Department of Information of the UGCC reports.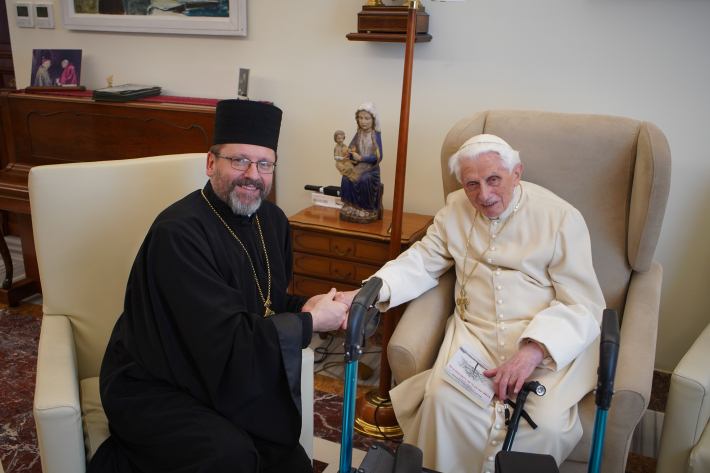 Patriarch Sviatoslav thanked Pope Benedict XVI for his support of Ukraine and the UGCC during his pontificate.
The Holy Father touched upon the issue of the war in Ukraine, calling it a "great tragedy"" for Europe. He assured the Head of the UGCC of his everyday prayer for peace, noting the necessity of making every effort to prevent the disaster of wartime from happening again in Ukraine. The representative of the UGCC pointed out that Ukraine "is the eastern gates of Europe and if the gates do not withstand Russia's aggression, other European countries could become the latter's victims."
Pope Benedict also showed interest in the life and development of the UGCC in Ukraine and in the diaspora. In this context, His Beatitude Sviatoslav reminded of the figure of Patriarch Lubomyr, "whose birthday Ukraine commemorates today." His Holiness called him "man of great wisdom," and His Beatitude Sviatoslav pointed to the national dimension of the moral authority of the deceased.
During the conversation, His Beatitude Sviatoslav introduced the Pope Emeritus to the contemporary religious situation in Ukraine and described the role of the UGCC in the ecumenical and interreligious dialogue.
At the end of the audience, the Head of the UGCC presented him with his book Tell Me the Truth which was recently released in Italy and published by the publishing house that has a right to publish the books of Pope Benedict XVI.
During the conversation, Pope Benedict XVI also reiterated that he was praying for peace in Ukraine and confirmed that he is set to further "support the Ukrainian people with his prayers".
In parting, the Pope presented the Patriarch of the UGCC with a commemorative medal issued in honor of his pontifical ministry.
Last comments
17 May 2019, 09:35

|
17 May 2019, 02:48

Почесний Патріярх Філярит дуже добре знає навчання Христа тільки у своїм поважнім віку та бурхливих подіях дався вплинути державним правилам.

|
17 May 2019, 02:07

Христос застерігав що хто хоче бути першим буде послідний. Як приклад сам мив апостолам (грішникам) ноги.

|
16 May 2019, 23:08

Надежды украинцев - иметь законный Патриархат, признанный Матерью-Церковью в Константинополе, а не амбициозные крики: "Я патриарх, и будет только так, как я хочу, а не иначе, а Епифаний пусть

|
Most Popular Articles month