Cardinal Sandri to visit Ukraine
From 11 to 17 July, Cardinal Leonardo Sandri, Prefect of the Congregation for the Eastern Churches will be on a pastoral visit to Ukraine. The program of the visit, which is a gesture of love of Pope Francis to the Ukrainian Greek Catholic Church, includes a series of events planned in Kyiv, Kharkiv, Kramatorsk, Slovyansk, Ivano-Frankivsk, Zarvanytsia, and Lviv.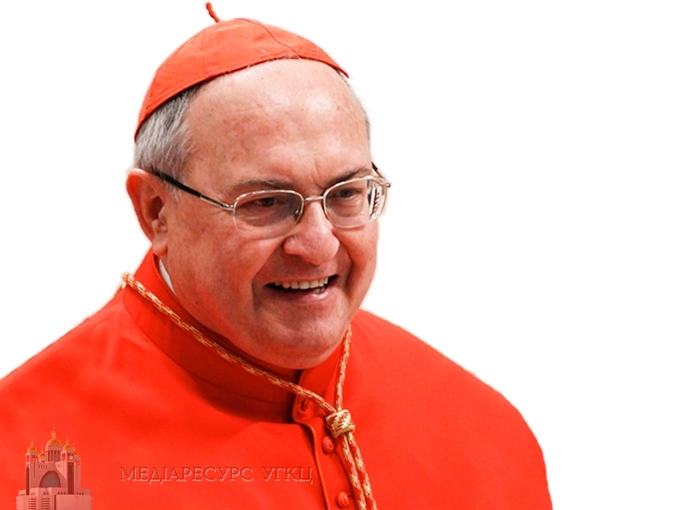 In particular, on July 11, in Kyiv, Cardinal Leonardo will pray on Maidan near the cross and visit the Museum of Holodomor. On the day of the feast of the Holy Apostles Peter and Paul, July 12, the Vatican's visitor will concelebrate in the Hierarchical Liturgy at the Patriarchal Cathedral of the Resurrection of Christ, and will also commemorate the newly deceased Lubomyr, Archbishop of the UGCC, in a prayer in the crypt of the Patriarchal Cathedral. Then he will give interview to journalists at the studio "Live TV" in Kyiv and visit the Kyiv Three Saints' Seminary in Knyazhiychi.
On the same day, July 12, the Prefect of the Congregation will meet Bishop Basil (Tuchapets), the Exarch of Kharkiv, in the city of Kharkiv and will get acquainted with social service in the exarchate, in particular, he will visit the Charitable Fund Caritas-Kharkiv. The next day, July 13, the Cardinal will take part in the Hierarchical Divine Liturgy and the rite of consecration of the Lower church and dome crosses pf the UGCC Cathedrals in Kharkiv, led by the Father and Head of the UGCC, His Beatitude Sviatoslav. He will also meet pastors of the Kharkiv Exarchate.
On July 14, Cardinal Sandri will be in Kramatorsk, where he will take part in the Hierarchical Divine Liturgy at the Church of the Holy Prophet Elias. He will also meet with Bishop Stepan (Meniok), the Exarch of Donetsk, and the clergymen of the exarchate. In addition, the prefect will get acquainted with the activities of the Charitable Fund "Caritas-Kramatorsk". On this day, the Vatican's representative will visit the Greek Catholic community in Slovyansk and talk to the IDPs.
On July 15, the respected guest will visit the Ivano-Frankivsk Theological Seminary and talk to Bishop Volodymyr (Vityshyn), Archbishop and Metropolitan of Ivano-Frankivsk.
On July 15-16, Cardinal Sandri will take part in events and worship in the framework of the All-Ukrainian pilgrimage to Zarvanytsia. In addition, he will visit the Museum of Patriarch Josyp Slipyy in Zazdrist.
In the last days of the visit, July 16-17, the prefect of the Congregation for the Eastern Churches will pray in the crypt of the St. George's Cathedral in Lviv and will stay in the Metropolitan Chambers.
Last comments
18 June 2018, 19:32

|
17 June 2018, 21:47

Вдумайтесь, без криков, истерик и "патриотизма". Кому предоставлять автокефалию? Единой Украинской церкви? А где она? Для начала её надо создать. А потом уже, даже не предоставлять

|
16 June 2018, 04:47

He is preparing to announce recognition of the one and only UOC. The so called UOC-MP will be just what it is : ROC. A parasite in Ukraine

|
15 June 2018, 22:13

Моливо якщо буде Божа Воля, то многостраждальна Україна отримає томос і стане канонічною об'єднаною православною країною. Божа любов переможе.

|
Most Popular Articles month