Bishop Stepan Sus was appointed chairman of Pastoral Migration Department of UGCC
Patriarch Sviatoslav of the Ukrainian Greek Catholic Church, with the consent of the Synod of Bishops, which was held in Rome on September 1-10, 2019, appointed Bishop Stepan Sus as the chair of the Pastoral Migration Department.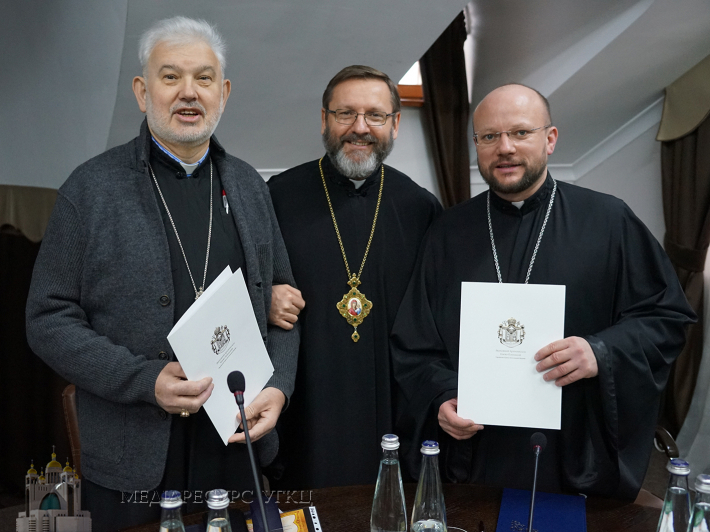 This is reported by the UGCC Information Department.
The decree on appointment states that the mission of the Pastoral Migration Department is to provide pastoral care for the faithful of the UGCC on behalf of the Chair and the Synod of Bishops of the UGCC in territories with no available hierarchical structures.
Accordingly, Bishop Iosyp Milian, who chaired the PMD so far, was removed from this office by the head of the UGCC.
"On behalf of the Synod of Bishops of the UGCC, we extend our gratitude for your many years of sacrificial work in this office, which is marked by multiple achievements. Thanks to your perseverance and the coordinated work of the Department's professional staff, thousands of believers of our Church, who were scattered around the world by fate, were covered with the prayerful care of the Mother Church. May the All-Merciful Lord generously reimburse you with his multiple graces for all that you have done for His glory and for the good of our Church," the text of the decree reads.
At the point of handing over of the decree, His Beatitude Sviatoslav noted that this change was made in accordance with the need for a separate Bishop to deal with the PMD, for whom this mission will be the key one.
"We thank the Lord God that we now have a Bishop who will only serve these laypeople and priests. According to the Ministry of Foreign Affairs, one million of our citizens leave Ukraine every year. And the Mother Church must follow them. The slogan of our Patriarchal Council of this year is: 'Church is always and everywhere with you!' Your Eminence, it is your mission to make our believers feel the presence and care of their Church wherever they are," the head of the UGCC said, addressing Bishop Stepan Sus.
*** The Pastoral Migration Department was created to provide pastoral care to the faithful of the UGCC who live in different countries of the world where there are no UGCC structures yet. Realizing this need and giving force to the decision of the Synod Of bishops of the UGCC, which was held in Lviv-Bryukhovichi on September 2-9, 2008, His Beatitude Lubomyr Huzar established the Pastoral and Missionary Department of the UGCC by his decree of September 16, 2008. The Synod of Bishops of the UGCC (August 11-17, 2013 in Kyiv) agreed to change the name to "Pastoral Migration Department" (PMD).
Most Popular Articles month
8 February 2020, 15:56 | Vatican | 9 February 2020, 21:03

President Volodymyr Zelenskyy invited His Holiness Pope Francis to visit the capital and the east of Ukraine

12 February 2020, 12:07 | Orthodox world | 27 February 2020, 19:04

Moscow overrates its influence on the Orthodox World, - religious expert on Amman Meeting

24 February 2020, 11:26 | Church-state relations | 25 February 2020, 13:59

OPU Deputy Trofimov interferes with Church policy for the benefit of Moscow Patriarchate, - media

21 February 2020, 12:38 | International relations | 22 February 2020, 20:56

2 February 2020, 20:38 | Orthodox Church of Ukraine | 5 February 2020, 14:06

Representatives of Universal Orthodoxy arrive to celebrate the first anniversary of the OCU Primate's enthronement