Episcopal consecration of Ivan (Kulyk) held in Khmelnytsky
On December 1, 2019, Bishop Ivan (Kulyk) was consecrated and enthroned at the Cathedral of the Nativity of the most Holy Theotokos in Khmelnitsky as Bishop of the Diocese of Kamyanets-Podilsk of the UGCC.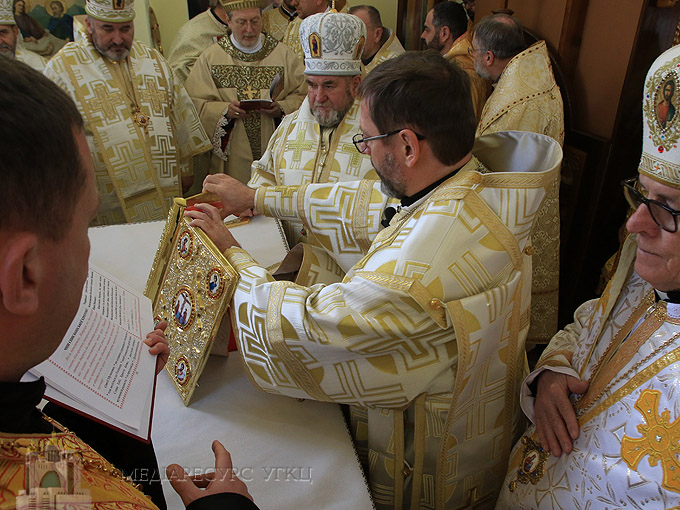 This is reported by the Information Department of the UGCC.
The service was led by UGCC Patriarch Sviatoslav - the main hierarch, concelebrating hierarchs - Bishop Vasily Semenyuk, Archbishop and Metropolitan of Ternopil-Zboriv, and Bishop Dioniksy Lyakhovich, delegate of the Apostolic Exarchate for Ukrainian Catholics of the Byzantine rite living in Italy.
The ceremony was attended by the bishops of the UGCC and the RCC in Ukraine, priests from around the world, representatives of monasticism, laity. Representatives of the regional and city authorities prayed together in the Church, to whom the head of the UGCC paid a courtesy visit before the Liturgy.
Attending the service was also the Metropolitan Anthony (Makhota) of Khmelnitsky and Kamyanets-Podilsk of the OCU.
"Today in Khmelnitsky, without exaggeration, a historic event took place... For the first time in the history of our Church, Episcopal consecration takes place in this city," the head of the UGCC said. "Before your eyes, Bishop Ivam received the fullness of the grace of the Holy Spirit and now the Lord sends him as the heir of the apostles to his people of God."
"I want to sincerely thank God for bringing us together in this temple. Thank you to Him for the gift of life, for the gift of the priestly vocation, as well as for the gift of this high Episcopal ministry. Today I am grateful that the Almighty Lord has always been with me, and especially in moments of doubt: when logic prompted me to say "no", but the Lord gave faith and strength to accept His will and follow Him. Now I ask Him to continue to be a light, dear, truth and life for me, " said Bishop Ivan (Kulyk) in his speech of gratitude.
At the end of the Liturgy, Archbishop Claudio Gugerotti, Apostolic Nuncio to Ukraine, addressed the congregation and congratulated Bishop Ivan and wished him all the best in his Ministry.
As reported, on December 11, 2015, Vatican officials reported that the Pope blessed the decision of the Synod of bishops of the UGCC to establish the diocese of Kamyanets-Podilsk of the Ukrainian Greek Catholic Church centered in Khmelnitsky, separating it from the territory of the Ternopil-Zboriv Archdiocese of the UGCC.
Prior to the appointment of the eparch, the administrator of this diocese was Archbishop and Metropolitan of Ternopil-Zboriv Vasyl Semenyuk. The diocese covers the Khmelnytsky region.
Most Popular Articles month