Pope meets with UGCC bishops
On September 2, the Holy Father Francis received the bishops of the Holy Synod of the UGCC at the Apostolic Palace in the Vatican. This Synod is being held this year in Rome under the title ''Communion and Unity in the Life and Testimony of the Ukrainian Greek Catholic Church".
This is reported by the Information Department of the UGCC.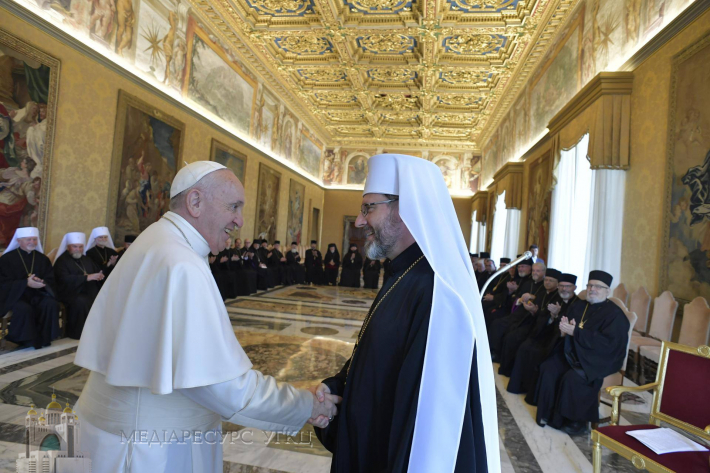 Addressing the bishops, Pope Francis joked that he did not have a prepared speech, as "during our meeting in July, I already said everything I had to say." Therefore, the Holy Father preferred to greet each of the bishops and communicate with them in person.
Citing Patriarch Sviatoslav's speech at the beginning of the audience, the Roman First Hierarch said:"You have highlighted one idea that we must not lose: the Synod, synodality and the Holy Spirit." According to him, today there is a danger to mistakenly believe that the Synodal way is gathering opinions in order to meet and reach some understanding in the future. "No, the Synod is not a Parliament! We need to discuss matters, to have disputes as it usually occurs, but it is not Parliament. The Synod does not mean to reach some kind of understanding, as in politics: I give you this, and you give me this. No! The Synod does not mean to conduct sociological surveys, as some might believe, say, we will order a poll to the laity to find out what should change. You must know what your laity think, but the Synod is not a poll, it is something else."
The Pope stressed that "if there is no Holy Spirit, there is no Synod. If there is no Holy spirit, there is no synodality." As well as," where there is no identity of the Church." "What is the identity of the Church? the Pope asked. St. Paul VI was quite clear about it: the Church's vocation is to evangelize, moreover, evangelization is its identity."
It was with this spirit that his Holiness wished the Ukrainian bishops to enter the Synod – "with the Holy Spirit." "Pray to the Holy Spirit ... we do not want to become a congregational Church, but a Synodal Church. Follow this path," Pope Francis urged.
Most Popular Articles month