Where there's the Pope, there is the true Church, - Patriarch of the UGCC commented on the pledge of unity of the Church of Christ
The Ukrainian Greek-Catholic Church has maintained and preserved through hundreds of years the conviction that the guaranty of the unity of the Church of Christ is the successor to St. Peter the Apostle. And this faith is part of the identity of the Church of Kyiv.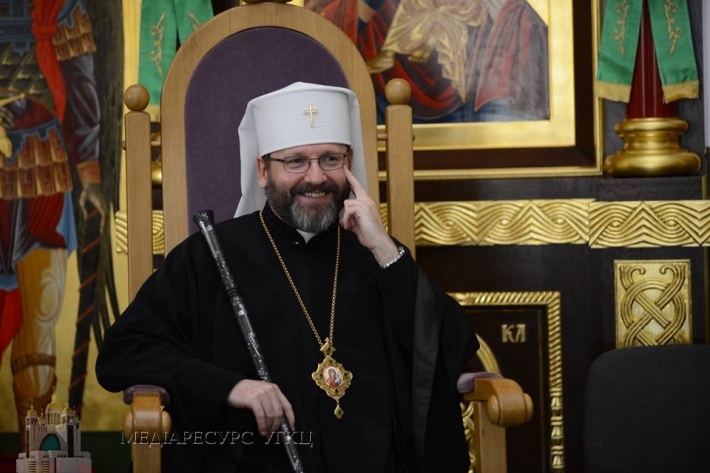 Patriarch Sviatoslav (Shevchuk) was reported as saying this in Zhovkva, Lviv region, during the ceremony of episcopal nomination of Bishop Peter (Loza) on July 11, 2018, reports the Department of Information of the UGCC.
"The belief in the fact that the successor of the Apostle Peter is the core, the pledge of the unity of the Church of Christ, belongs to the identity of the Church of Kyiv. Perhaps other Churches that emerged after the Church schisms do not have that Church memory. But we have!" said the Patriarch.
According to the Primate, the unity of the UGCC with the Holy Father is not based on political gain or geopolitical international situation. This is part of the faith of the Church of Prince Vladimir, a faith that we have managed to preserve and testify to it with the blood of our martyrs.
"Here, in Zhovkva, the people in our Galician lands have asked where the true Church is. I remember how we, our children, our grandparents, grandparents, mothers were taught such a short confession of faith. My grandmother said, "Where there is the Pope, there is the true Church." Last week I personally put into the hands of Pope Francis this brief testimony of faith during a personal meeting. I said to him, "Holy Father, I was taught from a young age that where the Pope is there is the true Church of Christ." Pope Francis hugged me and asked me to thank our people, our nation, our grandparents for the testimony of the unity of the Church of Christ."
"We, as members of the UGCC, do not belong to other patriarchates. We are in communion with the successor to the Apostle Peter, as in the first millennium, the Patriarchs of Constantinople, Jerusalem, Antioch, and Alexandria were in communion with him. We are not members of the Latin Patriarchate, as some people say, we are building ours as a local Church of our own right," explained the Primate.
In conclusion, the Head of the UGCC noted that no patriarch, no earthly ruler of some kind is a servant of the unity of the Church of Christ.
"The core, servant, rock, visible sign of unity in the Church of Christ, according to the will of our Savior, is His Holiness the Pope of Rome," said His Beatitude Sviatoslav.
Last comments
22 February 2019, 19:27

|
22 February 2019, 15:48

Ще раз - які православні церкви привітали церкву розкольників з її народженням, прости Господи!!! жодна !не кажіть дурниць!!! не канонічна нова секта об'єднаних розкольників !!!

|
22 February 2019, 11:56

І отакі, без всякого сорому, заявочки видають, наче живуть за морями-океанами і не знають, про що йдеться в Україні. А найперше ще й свій інтерес, подібний до московського, виставляють. Московити ж

|
21 February 2019, 21:48

Мало, мало, і мало, - шановні пане і панове, грецькі католики...Ну чому ж, Ви, не закликали всіх своїх грецьких католиків уважно вивчити життя всіх кандидатів у президенти, як це роблять на

|
Most Popular Articles month
12 February 2019, 13:29 | Inter-Orthodox relations | 17 February 2019, 07:32

Mount Athos is strongly in favor of the Ecumenical Patriarchate on the Ukrainian issue

1 February 2019, 11:27 | Moscow Patriarchy | 4 February 2019, 10:05

Presidential Administration responds to Kirill's plans to visit Kyiv

31 January 2019, 11:25 | Religion and society | 15 February 2019, 18:27

Yelensky: mobile groups of UOC-MP travel across Ukraine to exert pressure on parishioners

5 February 2019, 09:37 | Orthodox Church of Ukraine | 7 February 2019, 14:07

President's Rep in Verkhovna Rada: By end of year, thousands of parishes will join OCU

12 February 2019, 10:14 | Inter-Orthodox relations | 16 February 2019, 01:29