Bishop of RCC in Ukraine ordained in Kyiv
10 November 2019, 11:39
|
RCC in Ukraine
|
0
|
|
Code for Blog
|
|
On November 9, the episcopal ordination of Oleksandr Yazlovetsky, who was consecrated on September 18, took place in Kyiv. The Holy Father Francis has appointed him as auxiliary Bishop-assistant of the Diocese of Kyiv-Zhytomyr.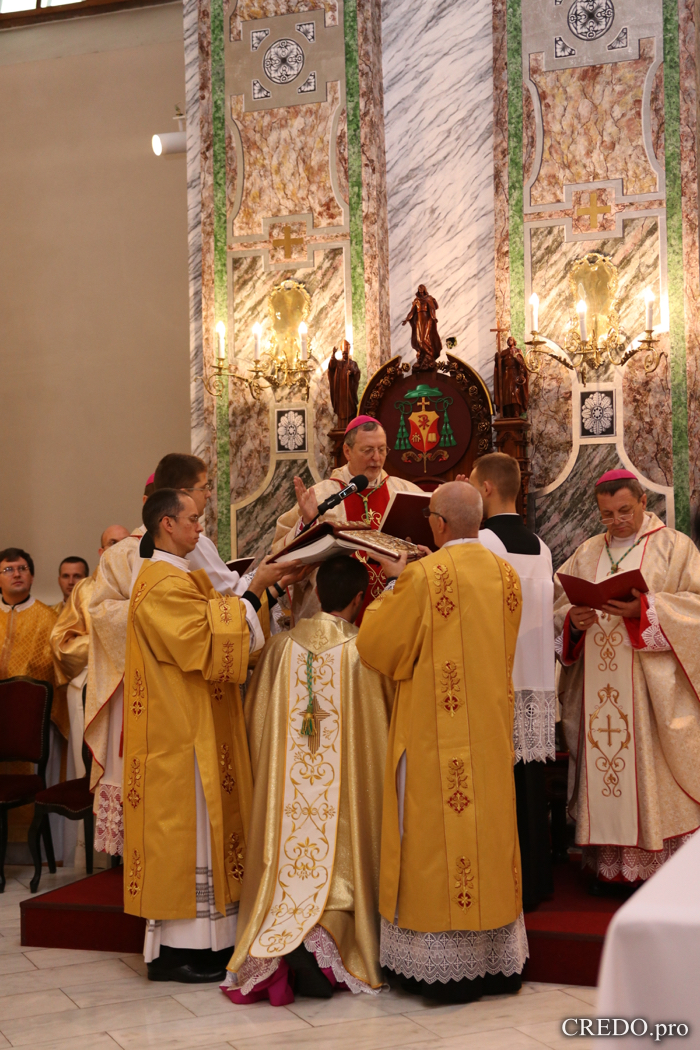 This is reported by CREDO.
The rector of the Kyivan parish, Fr Stanislav Serhievsky congratulated the attending guests by naming the bishops of the Ecumenical Church headed by the chief Consecrator — Apostolic Nuncio in Ukraine Archbishop Claudio Gugerotti.
Priests of the RCC in Ukraine, abbots of male and female congregations, guests from the UGCC, the OCU, Protestants, the Bible society, bishops and priests from abroad (from Poland, Italy, Switzerland), representatives of the authorities and the diplomatic corps also came to the celebrations.
The rite of ordination began with the chanting to the Holy Spirit. The parish choir performed it in Ukrainian. But the papal bull on the appointment of Bishop Oleksandr was read in Latin.
The Ukrainian text of Pope Francis' bull was read by the newly appointed Chancellor of the Diocese of Kyiv-Zhytomyr, Fr Vitaliy Kvapysh. The Apostolic Nuncio showed the audience a bull with the signature and seal of the Pope.
The newly consecrated Bishop Oleksandr Yazlovetsky chose as his slogan the words St. Thomas More's "Primus Servus Dei" (Servant of God in the first place). The symbolism of the Holy Martyr also found a place on the episcopal coat of arms — it is symbolized by an axe. There are also Ukrainian Patriotic symbols on it: yellow-blue colors, as well as the Bible and the Eucharist.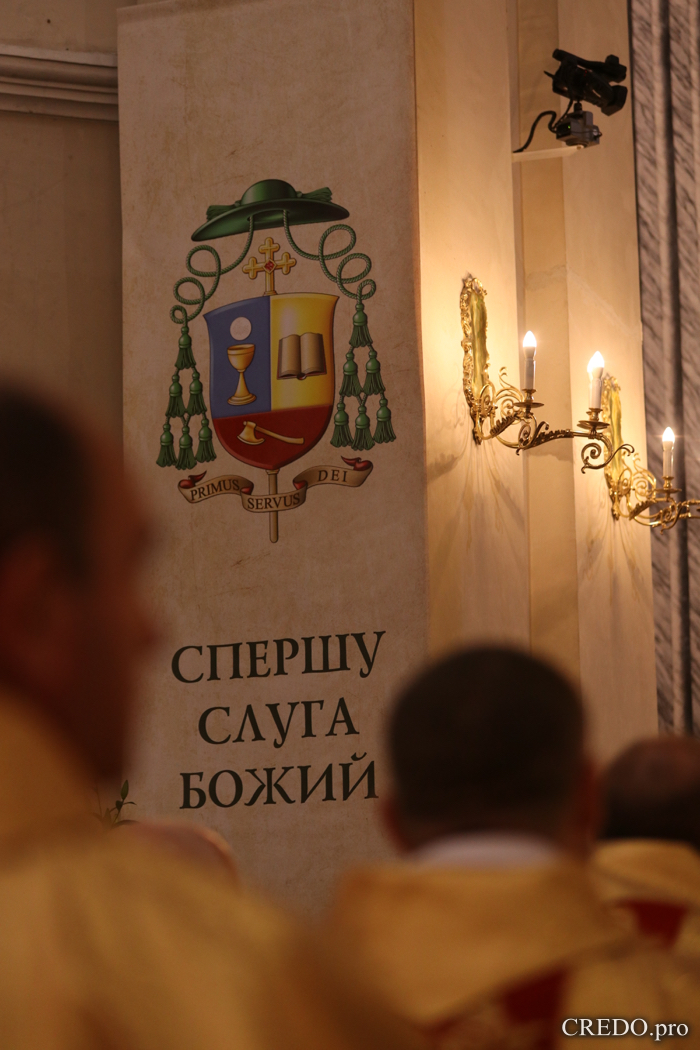 The new priest explained that he had recognized St. Thomas More during his stay in Davenport and wished to take his mark on his coat of arms.
The episcopal rank, he noted, is a gift not only for one priest, but for the whole Church, therefore he thanked everyone, "those present and absent", and asked for prayer.
Most Popular Articles month
1 May 2020, 10:05 | UOC (MP) | 2 May 2020, 13:10

Survey launched among Bukovyna believers on readiness to rally against the Lavra seizure from UOC-MP

12 May 2020, 12:12 | AUCCRO, inter-confessional councils | 13 May 2020, 19:26

AUCCRO suggests the government ease quarantine restrictions for religious organizations

23 May 2020, 09:35 | Church-state relations | 23 May 2020, 15:23

Zelensky responded to the petition for withdrawing Kyiv-Pecherck Lavra from UOC-MP

12 May 2020, 10:23 | Orthodox Church of Ukraine | 13 May 2020, 10:44

Hellenic Republic Council of State rejects the demand of pro-Moscow organizations to cancel the recognition of the Autocephalous Church of Ukraine by Greek Church

25 May 2020, 12:34 | Land and property problems | 26 May 2020, 16:31

Experts comment on Zelensky's refusal to withdraw Lavra from UOC-MP