Eastern Catholic hierarchs of Europe meeting in Rome
13 September 2019, 11:06
|
Catholic world
|
0
|
|
Code for Blog
|
|
A meeting of Eastern Catholic hierarchs in Europe began at the Ukrainian Pontifical College of Saint Josaphat in Rome. For the next two days, the participants will be discussing the contemporary ecumenical mission of the Eastern Catholic Churches of Europe. On Saturday, September 14, Holy Father Francis is having an audience with the Eastern hierarchs.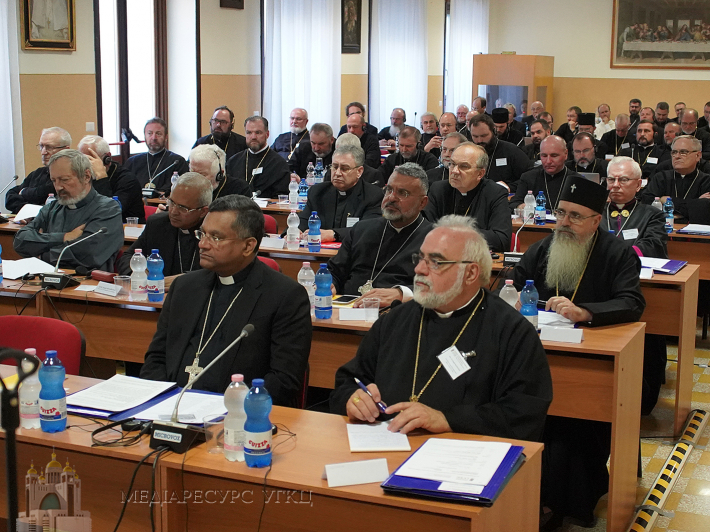 This was reported by the Secretariat of the Head of the UGCC in Rome.
The first of the working sessions began with the greetings of Cardinal Angelo Banyasco, President of the Council of the Bishops' Conferences of Europe (CBCE), and Patriarch of the UGCC Sviatoslav.
In his speech, Cardinal Banyasco referred to the Eastern Catholic Churches' "special mission" in the ecumenical dialogue. Quoting Pope Francis that true ecumenism is achieved while striding together, Cardinal Banyasco said: "together" is a simple yet crucial word in the ecumenical dialogue for it manifests our own dialogical nature, as well as the profound reality of the incarnation of the Son of God, which according to the Oriental Theology "directs a man towards deification."
While welcoming the participants of the meeting, Patriarch Sviatoslav noted that "the issue of ecumenism is not optional for the Eastern Catholic Churches but serves as an integral part of our identity. We, Eastern Catholic bishops, can feel it touching the depth of our very being."
The Head of the UGCC also stated that "unfortunately, in the contemporary ecumenical processes, the role of the Eastern Catholic Churches is oftentimes denied, moreover, the very right of our existence is denied."
His Beatitude Sviatoslav also told the Eastern Catholic hierarchs of his last July meeting with Holy Father Francis, where the Pope offered personal support in organizing this year's convention to further understand the ecumenical mission of the Eastern Catholic Churches in Europe.
Cardinal Kurt Koch, President of the Pontifical Council for the Promotion of Unity of Christians, and Cardinal Leonardo Sandri, Prefect of the Congregation for the Oriental Churches, spoke at the first working session.
Most Popular Articles month