02-12-2019
https://risu.org.ua/en/index/all_news/orthodox/ocu/78011/
Ecumenical Patriarch Bartholomew receives an OCU delegation in Istanbul
In Istanbul on November 29, where the residence of Ecumenical Patriarch Bartholomew is located, an official delegation and pilgrims from the Orthodox Church of Ukraine arrived, the press service of the OCU informs.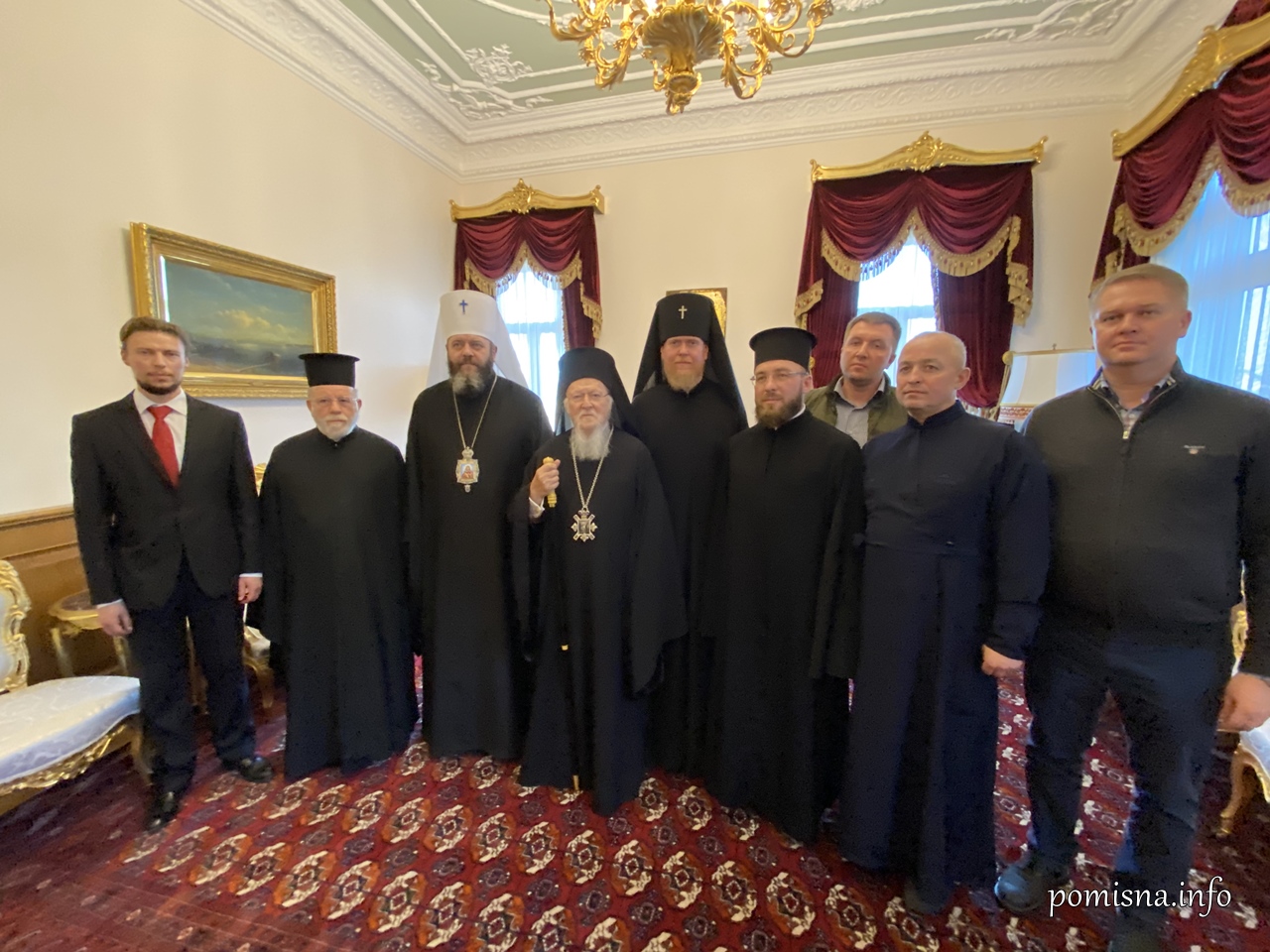 "With the blessing of his Beatitude Metropolitan Epifaniy, his official representative, Deputy Cairman of the Department for External Church Relations, Archbishop Yevstratiy of Chernihiv and Nizhyn, arrived at the Ecumenical Patriarchate on the occasion of the feast in honor of the Apostle Andrew," the message reads.

Archbishop Yevstratiy was accompanied by the worker of the Kyiv Metropolis deacon Mykhailo Omelian. The Archbishop conveyed sincere congratulations to Patriarch Bartholomew from Metropolitan Epifaniy and presented the publication on the Ukrainian Church.

The Ecumenical Patriarchate is also visited by the clergy and faithful of the Volyn Diocese headed by Metropolitan Mykhailo of Lutsk and Volyn.

After the meeting with Bartholomew, the delegation of the OCU, as well as pilgrims from Volyn, together with Metropolitan Mykhailo, took part in the welcoming ceremony of the Pope and Patriarch Theodore II of Alexandria and all Africa and in the festive evening service in the Patriarchal Church of St. George on Phanar.

After the service, Bishop Yevstratiy delivered a welcoming speech to Patriarch Theodore of Alexandria, in which he expressed his sincere gratitude on behalf of Metropolitan Epifaniy for the cooperation and recognition of the Ukrainian Church.

"We know that Ukraine is in Your heart in a special way, just as Your All-Holiness is in our hearts in a special way. And we wish you many and blessed years of service! The first time You have remembered in the Diptych of the Ukrainian Church on the day of St Michael the Archangel, and this is not surprising, because St. Michael is the patron saint of our capital city Kyiv and the Cathedral of the Primate of the Ukrainian Church named in his honor. May the flaming sword of Archangel Michael protect You and the Holy Church of Alexandria from all enemies!" said the address.

In memory of the first joint prayer, the pilgrims gave to Patriarch Theodore II the Ukrainian icon of St. Luke of Crimea, created by Volyn craftsmen.

Earlier, Patriarch Theodore II of Alexandria and all Africa sent a letter to His Beatitude Metropolitan Epifaniy, expressing brotherly support. On November 8, the Patriarchate of Alexandria actually recognized the Orthodox Church of Ukraine.
www.risu.org.ua
The items contained in the Religious Information Service of Ukraine may be used, in part or in their entirety, by quoting the source.