30-01-2019
https://risu.org.ua/en/index/all_news/confessional/interchurch_relations/74523/
UGCC Patriarch spoke to delegation of German Evangelical Lutheran Church in Ukraine
On January 29, Head of the Ukrainian Greek Catholic Church, Patriarch Svyatoslav met with the delegation of the German Evangelical Lutheran Church in Ukraine at the patriarchal residence.
This is reported by the Department of Information of the UGCC.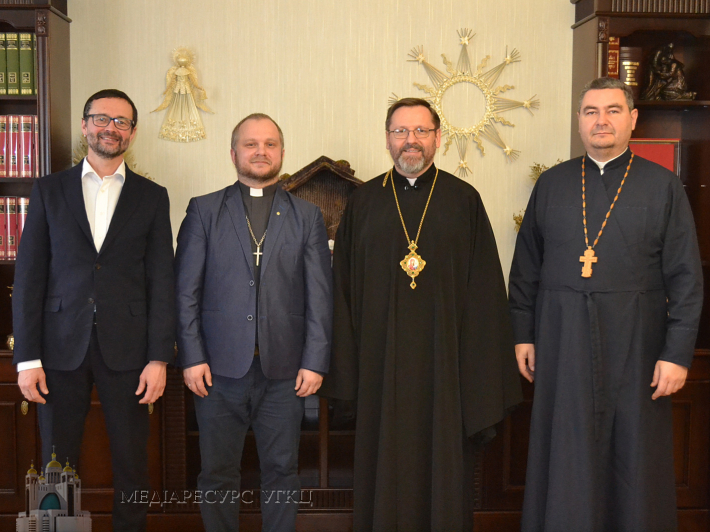 The meeting was attended by the newly elected bishop of the German Evangelical Lutheran Church in Ukraine Pavlo Schwartz and the rector of the Church of St. Catherine in Kyiv, Pastor Matias Lazi. Attending the meeting on behalf of the Ukrainian Greek Catholic Church was Archpriest Ihor Shaban, Chairman of the UGCC Commission on Interfaith and Interreligious Relations.
Greeting the guests, His Beatitude Sviatoslav noted that the Ukrainian Greek Catholic Church is trying to build sincere and open relationships with all Christians.
"As far as the Lutheran Church is concerned, I remember a recent Maidanepisode when I visited the wounded in your Church of St. Catherine, which for some time became a clandestine hospital. But most of all, I was struck by the figure of then-pastor Ralph Hasky, his faith and self-sacrifice for the Ukrainian people," said the head of the UGCC.
Bishop Schwartz thanked for the opportunity to meet with His Beatitude, and, after making a brief excursion into the history of the establishment of the German Evangelical Lutheran Church in Ukraine for the past 27 years, told UGGCC Head about its current state and possibilities for cooperation. In his opinion, in recent years, not only was it possible to revive the Lutheran Church on the basis of the German Society, but also to develop it and organize its liturgical and community life.
In the course of their conversation, the Kyiv pastor, Matias Lazi shared his experience of working in Germany, from where he was delegated to Kyiv six months ago. The fact that immediately caught his eye in Ukraine is the openness of the Greek Catholics to the ecumenical movement, which is based on the document Ecumenical Concept of the UGCC. It is important that this concept speaks not only of dialogue with the Orthodox Church, but also with the Churches of the Protestant tradition.
Another topic of the conversation was the definition of possible ways of cooperation between the Churches. Patriarch Sviatoslav offered, first of all, to continue to develop social service and start intellectual work on the popularization of the exchange of theological thoughts and experiences. The international ecumenical group "Reconciliation in Europe: the task of the Churches of Poland, Germany, Ukraine and Belarus" is an important element in the cooperation of the two denominations.
In conclusion, the Patriarchate of the UGCC presented the Jubilee edition of the Ukrainian Greek Catholic Church to the participants of the meeting and wished the German Evangelical Lutheran Church in Ukraine good development, prosperity and openness to dialogue and world-building.
www.risu.org.ua
The items contained in the Religious Information Service of Ukraine may be used, in part or in their entirety, by quoting the source.